US lawmakers are drawing comparisons between the "massive and coordinated" hack of French president-elect Emmanuel Macron's campaign and the cyberattacks that targeted the US election last year.
On Friday (5 May), less than 48 hours before polling day in France, a trove of campaign and email documents were published on document-sharing website Pastebin by a user named EMLEAKS.
Under French law, the candidates and the media were plunged into silence beginning on Friday at midnight until the last polling station closed on Sunday.
Over the weekend, France's election campaign commission also warned the media and citizens not to relay the "significant amount of data" leaked in order to avoid "altering the sincerity of the vote." It also said the spread of such data "is liable to be classified as a criminal offence."
Despite the media silence in France, both Democratic and Republican members of Congress said the attack echoed the hacks that hit the US Democratic National Committee and presidential nominee Hillary Clinton's campaign in 2016.
US intelligence agencies blamed Russian President Vladimir Putin for ordering a complex "influence campaign" to hurt Clinton's chances of winning and help Donald Trump clinch the election. The report, released earlier this year, also warned that Russia would apply lessons learned from the US election to "future influence efforts worldwide, including US allies and their election processes."
The Kremlin dismissed the report and allegations as "baseless."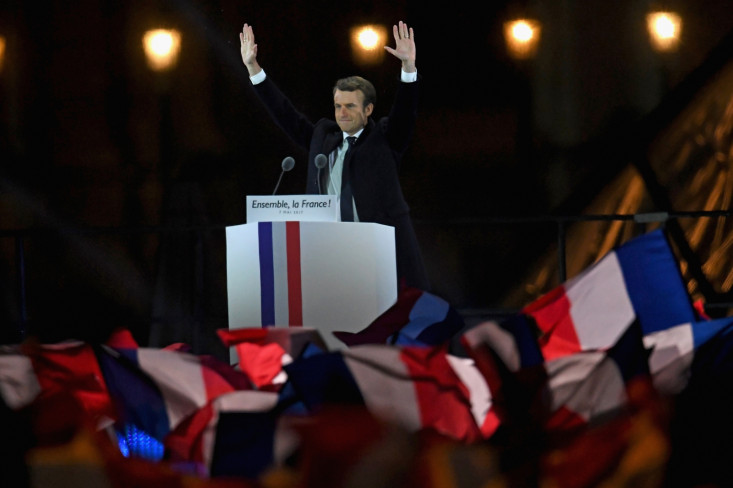 Cybersecurity firm Trend Micro recently found evidence that Russia-linked hacker group Fancy Bear attempted to target Macron's campaign using sophisticated phishing tricks. Experts have previously tied the group, also known as APT28, to the DNC hack.
While Macron's campaign accused Russia of trying to meddle in the French election by attempting to hack its computer systems and using fake news, the Kremlin again denied the claims and any involvement.
Following news of the hack, many US lawmakers took to Twitter voicing concerns over possible Russian interference in the French elections whilst applauding Macron's win over far-right candidate Marine Le Pen as a "victory for democracy" against alleged interference.
"Trump's election only emboldened Putin," Democratic Representative David Cicilline of Rhode Island tweeted. "He's trying to undermine every Western democracy in his sights."
"Russia, again," Republican Senator John Cornyn of Texas tweeted.
Senator Chris Van Hollen of Maryland wrote in a series of tweets: "I applaud the action of the French govt to condemn a hack of Macron's email, a move to try to compromise the democratic process in France. These types of cyberattacks to destabilise democratic countries should be condemned by all, no matter your party."
Representative Adam Schiff, the top Democrat on the House Intelligence Committee which is leading the US-Russia investigation, said his "worst fear" during the US election was that Russia would slip in fake documents among real ones in the near-daily trickle of email dumps.
"That nightmare scenario may be playing out" in France, he said.
Macron's campaign noted that many "false documents" were included in their own email dump "in order to sow doubt and disinformation".
"This would represent yet another dangerous escalation of cyber interference in a Western nation's democracy," Schiff said.