The US-led coalition announced on Thursday (30 March) that it launched a formal probe into the recent death of nearly 200 civilians in western Mosul, suspected to be a result of air strikes.
The coalition also said that it found video evidence of "sinister" Isis tactics in which the Islamist group is deliberately getting common people killed in the warzone to use civilian casualty concerns as a means to deter further attacks.
Following the 17 March incident in a village in Mosul where nearly 200 people died after their houses collapsed, aid groups working in the region accused coalition air strikes for the loss of innocent civilian lives. However, Iraqi officials insisted the houses that collapsed on that day were rigged by Isis bombs. Some also blamed it on Isis car bombs.
On Thursday, Army Colonel Joseph Scrocca, a spokesman for the coalition, told Pentagon reporters that Army Lietenant General Stephen Townsend, Operation Inherent Resolve commander, ordered the investigation.
"Our goal is and has always been zero civilian casualties, but there is a legal and moral imperative to protect our own forces and accomplish the mission against an evil enemy that is equally as important as protecting civilians.
"We will continue to assess and adjust our tactics to account for civilians on the battlefield while striking Isis whenever and wherever we safely can," the spokesman noted, according to a Pentagon press release.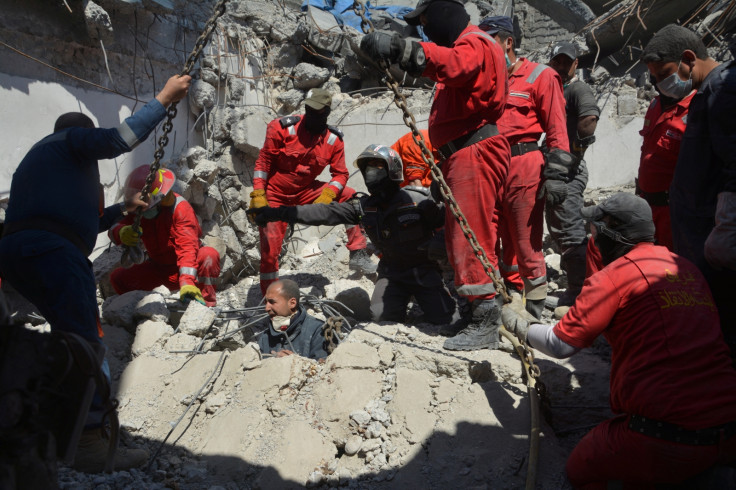 Scrocca said that a thorough investigation would allow their campaign to analyse other aspects of the case like assessing strike procedures and their impacts of Isis tactics. Recommendations from the investigating officer could also help in improving operations in western Mosul, he added.
About the video evidence he said: "What you see now is not the use of civilians as human shields. Now, it's something much more sinister.
"Isis is smuggling civilians into buildings so we won't see them, trying to bait the coalition to attack, to take advantage of the public outcry and deter action in the future."
He added they had suspicions but the video has now provided proof of new Isis tactics.
The video reportedly showed Isis militants forcing civilians into a building, killing one who resisted, and then using the building as a fighting position against Iraqi counterterrorism service forces.