US Man Walter Eagle Tail Dies at Fourth of July Hot Dog Eating Contest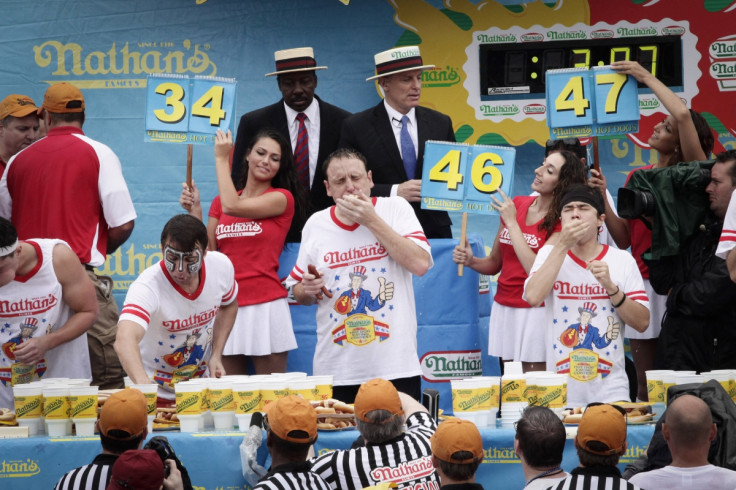 A US man died while competing in a hot-dog eating contest held at a Fourth of July event in South Dakota.
Walter Eagle Tail, 47, from the city of Custer, chocked to death, as he was trying to beat his five opponents in the speed-eating competition.
Paramedics were called at the scene but all attempts to save him failed.
"There was someone doing CPR when we arrived," Custer county sheriff Rick Wheeler told the Rapid City Journal. "He probably just suffocated. It got lodged in his throat and they [the paramedics] couldn't get it out.
"It all happened within minutes," the sheriff said.
The incident occured at on the eve of Independence Day at an event organised by the Custer Chamber of Commerce at a local city park to kick-start the Fourth of July weekend celebrations.
Following Tail's death, the organisers called off a pie-eating contest scheduled for the next day.
Competitive eating contests are popular in the US during fairs and festivities.
Similar incidents are rare but are known to have happened in the past.
"We always make sure it's in a controlled environment," George Shea, chairman of Major League Eating, a competitive-eating organisation based in New York, said. "We organise the entire thing around safety ‒ [just as] if it's football or hockey or auto racing, we approach it as a top priority."
In the same weekend thatTail died, hot-dog eating world-record holder Joey "Jaws" Chestnut managed to eat 61 hot dogs in 10 minutes, eight short of his record, at an annual contest in Brooklyn's Coney Island.
© Copyright IBTimes 2023. All rights reserved.