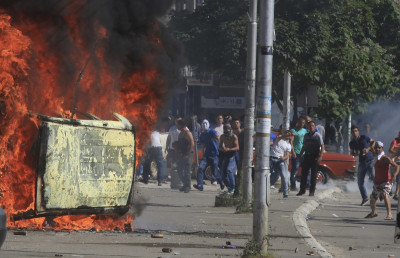 Nato peacekeepers intervened to back up Kosovo police in clashes at a bridge dividing Albanian and Serb communities in the city of Mitrovica.
In an incident underscoring persistent ethnic tensions in the Balkan state, hundreds of Albanians staged a violent protest against a barricade rebuilt by Serbs at the key bridge on the River Ibar.
Demonstrators threw bricks and rocks as they tried to break through a police cordon and reach the bridge. Seven officers were injured and five police cars set alight.
"There was an attempt by the protesters to pass the police cordon placed here on the bridge," police spokesman Avni Zahiti said.
Police fired tear gas and used batons to disperse the crowd and called for assistance from the Nato-led peacekeeping force.
US soldiers supported by German police in riot gear were deployed to seal off the bridge while US armoured vehicles blocked access to it.
"The police were forced to use means at their disposal to manage a crowd that turned violent," Zahiti said.
Nato leads a 5,000-strong peacekeeping force - including an 665-strong contingent from the USA - in Kosovo, which unilaterally declared independence from Serbia in 2008.
The move came after a violent Serbian crackdown on separatists in 1998 that sparked Nato intervention.
Kosovo's independence is recognised by the US and majority of the 28 EU countries but not by Serbia.
Violence in Mitrovica erupted as local minority Serbs recreated a barrier set up to block ethnic Albanians from crossing the bridge.
The Ibar River divides the city between the southern ethnic Albanian district and the predominantly Serb north.
Serbs have been blockading the northern side of the bridge in a symbolic protest against Kosovo authorities for the past three years.
The roadblock was dismantled but soon replaced with a barrier of flower pots and earth, christened "Park of Peace" by Serb residents.