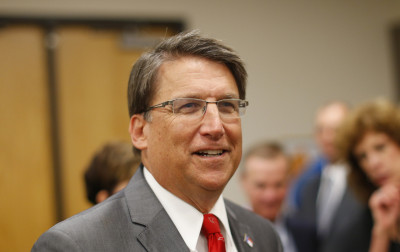 The head of the United States' biggest tobacco producing state has bashed France's plans to reduce its smoking population in a letter to the French ambassador in Washington.
North Carolina governor Pat McCrory wrote to ambassador Gérard Araud to express his formal opposition to a proposed law banning all branding on cigarette packs.
"Imagine if the United States demanded standard packaging on alcoholic drinks. Noteworthy French companies would be outraged ... and they would be right," he wrote, Le Figaro newspaper reported.
McCrory argued that the legislation threatens the livelihood of farmers, manufacturers, cigarette makers and electors that benefit from North Carolina's multimillion dollar tobacco industry.
North Carolina exported tobacco worth a total of $766m (£480m) in 2012, with local farmers harvesting more than 180,000 acres of the plant in 2013. Tobacco giants such as RJ Reynolds and Lorillard operate in the eastern state and are among its largest employers.
The Republican governor claimed that plain packaging is a symbolic and ineffective measure that "threatens to divert resources and attention from more effective actions that could allow France to attain their greater goal of becoming smoke-free country within the next decade".
However he didn't provide any example of viable alternatives in the letter. McCrory recently wrote a similar letter to the Irish ambassador, as Dublin is also considering the introduction of plain packaging.
Australia was the first country in the world to require that cigarettes are sold in plain olive green packages and several countries, including Britain, have since vowed to take similar action.
Paris laid out its own bold plans to cut France's historic high smoking rates - almost one in three adults smokes - in September.
Health Minister Marisol Touraine announced a set of anti-tobacco measures due to come into force in 2016, including replacing brand names and distinctive colours on cigarette packets with health warnings and large gruesome photos depicting damages smoking causes to the body.
Lighting a cigarette in a vehicle with a child on board is also to be banned, while the government is to help those who try to quit by subsidising nicotine replacement therapies.
"We can no longer accept the fact that the number of deaths caused by tobacco in France is the equivalent of an airliner crashing each day with 200 people on board," Touraine said.
Supporters of plain packaging say evidence suggests the measure is effective particularly in reducing the number of children who take up smoking.
Moreover, according to an Australian study, smokers using plain packets are 81% more likely to consider quitting, the BBC reported.
Big Tobacco has waged war to such regulations, claiming they are actually counterproductive. Tobacco companies claim unbranded packages help increase the sale of counterfeit cigarettes and potentially of cigarettes in general as smokers will no longer care about buying expensive brands.
They also argue that unbranded packaging violates intellectual property and trademarks rights.
Causing cancer and other chronic respiratory conditions as well as contributing to cardiovascular diseases, smoking is believed responsible for six million deaths a year, according to the World Health Organization.
IBTimes UK contacted governor McCrory's office for a comment but received no reply at time of publishing.