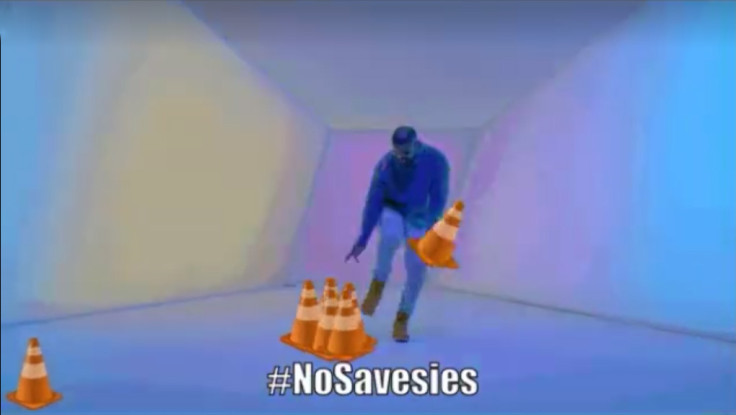 A US police department is urging angry citizens to let it deal with disputes over parking spaces in the snow by using a viral Facebook video adapted from a Drake music video.
The snow is back and in Philadelphia, there is a trend of residents shovelling snow away from parking spots and then "reserving" them using traffic cones and other items, which has led to escalating arguments amongst neighbours.
Many Americans will tell you that Philadelphia can be a pretty rough place, where arguments can easily escalate into fights over things like sports, or even cheese steak sandwiches. Clearly concerned about the potential for violence, the Philadelphia Police Department has launched a new campaign called #NoSavesies, together with a modified version of the rapper Drake's music video "Hotline Bling".
"You need to call us from your cellphone, late at night when you see that cone. Call us from your cellphone, that parking spot's not yours alone. 'Cos when we get that dispatch ring, we will come and get that thing," a police officer sings in the video.
Call 911 instead of getting into arguments in the snow
Philadelphia Police Department said in a post on its Facebook page: "A snow storm is coming..and you know what that means. Soon, people everywhere will be using cones, lawn chairs, trashcans, uh, toilets, and any other household item that they can think of to save their shoveled-out parking spot. Folks - the spot isn't yours, and saving it is against the law. Don't fight and argue with your neighbors - if you see an offending spot saver, call 911 and the PPD will swing by and check it out."
Although the video is an innovative way of getting the point across to the general public, the police have been criticised for encouraging Philly residents to call 911 over what could be seen as a trivial matter, but the police beg to differ.
"When it snows, some people decide to become Mad Max"
"No doubt most would probably agree that 911 has more important calls to take than ones about cones in the street. However, the police would much rather mediate a disagreement over parking laws now, than break up a fight later. Or, take a vandalism report. Or...worse. One doesn't have to look past this very post to watch seemingly peaceful, law-abiding folks explain in explicit detail just what they will do to the person/vehicle who dares move their cone and park in 'their' spot," Philadelphia Police Department said in response to a comment on its Facebook page.
"Unfortunately, when it snows some people decide to become Mad Max and treat the rest of the city like Thunderdome...it doesn't make sense, and we don't want to see anyone hurt or do something that they will later regret over a parking spot. So again, let us be the bad guys − we'll move the items for you. The snow will be gone before we know it, and we can all go back to grumbling about more important things − like sports."
The Philadelphia Police Department has also recently started posting internet memes on its Facebook page as part of its outreach engagement programme, as a way to remind Philly residents to take better care this winter.