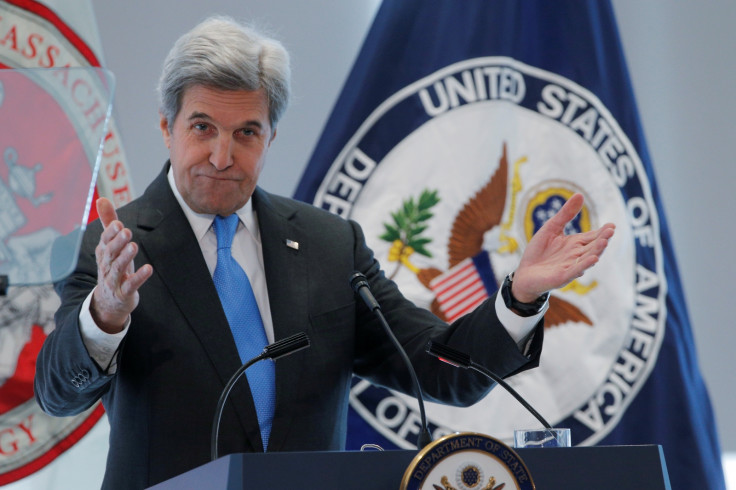 Outgoing US Secretary of State John Kerry has apologised to employees who were discriminated against for being gay in the past. Kerry, in one of his final official acts, issued a formal letter on Monday (9 January) and said sorry to those who were fired or otherwise discriminated against because of their sexual orientation.
The apology which appeared to refer to the "lavender scare" – when numerous gay employees were fired from jobs in the 1950s and 60s – was seen as the latest step by the Obama administration to promote inclusion of gays in the country's system.
"In the past — as far back as the 1940s, but continuing for decades — the Department of State was among many public and private employers that discriminated against employees and job applicants on the basis of perceived sexual orientation, forcing some employees to resign or refusing to hire certain applicants in the first place.
"These actions were wrong then, just as they would be wrong today," Kerry said in his apology.
He added, "On behalf of the Department, I apologize to those who were impacted by the practices of the past and reaffirm the Department's steadfast commitment to diversity and inclusion for all our employees, including members of the LGBTI (lesbian, gay, bisexual, trans, and/or intersex) community."
"Lavender scare" refers to the phase when several gay persons were fired from their jobs in the US. Gay men and lesbians were believed to be a security risk and communist sympathisers, which led to their exclusion from state employment.
The apology from Kerry comes after Senator Ben Cardin, leading Democrat on the Senate Foreign Relations Committee from Maryland, sent a letter to him in late November asking him to apologise to the victims of the lavender scare. He mentioned the lavender scare phase as a "deep stain on our national history and that of the State Department".
Glifaa, an organisation representing LGBTI employees of the State Department, appreciated the move by Kerry and said, "Secretary Kerry's acknowledgment of historic discrimination against LGBT employees at the State Department comes as GLIFAA celebrates its 25th anniversary.
"We wish more of our LGBT colleagues targeted by discrimination were alive to see the progress our country has made, and we celebrate their legacy by continuing to work for full equality for LGBT employees of Foreign Service agencies."
Meanwhile, the director of the Human Rights Campaign Government Affairs, David Stacy, said in a statement that "although it is not possible to undo the damage that was done decades ago, Secretary Kerry's apology sets the right tone for the State Department as it enters a new and uncertain time in our country under a new administration".