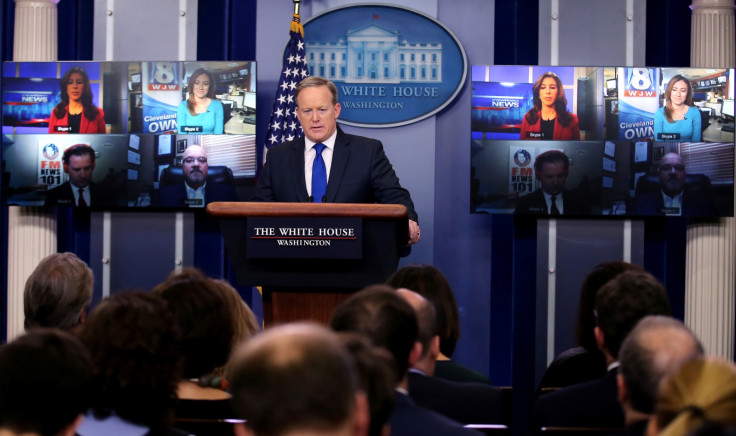 On Tuesday White House press secretary Sean Spicer took a question from a fringe right-wing talk show host who asked whether President Trump will begin logging American forests "aggressively" and stop spending money fighting forest fires.
"Commander Spicer, it's a pleasure! Thanks for your service to America and thanks for the opportunity," said Lars Larson of the Lars Larson Show as he prepared to ask his question from a Skype seat in the daily White House press briefing. His presence represents a shift to include alternative media voices in the White House.
Could President Donald Trump "tell the Forest Service to start logging our forests aggressively again to provide jobs for Americans, wealth for the Treasury, and not spend $3.5bn (£2.8bn) a year fighting forest fires?" Larson asked in the second part of a two-part question.
Under the Trump administration White House press briefings have been opened up beyond mainstream news outlets to include media on the fringes, including Larson. The conspiracy theory blog Gateway Pundit said last month that it secured White House press credentials, and like-minded site InfoWars claims it was also promised a seat and intends to pay for one.
In the first part of his question Larson, who has a talk show on KXL radio in Portland, Oregon, took the government to task for owning "two thirds of a billion acres of America." Does President Trump "want to start returning the people's land to the people?" he asked.
"The federal government owns roughly 640 million acres, about 28% of the 2.27 billion acres of land in the United States," according to the Congressional Research Service. This is roughly a third of US land.
The issue over this land is most prominent in the western states, like Oregon, since half of the total land in those states is owned by the federal government. Much of this has to do with the fact that most large National Parks are in the western US. In the rest of America just 4% of the land is government owned.
Tensions rose over this issue in early January 2016 during a 41-day standoff when a well armed right-wing militia occupied the Oregon Malheur wildlife refuge to protest over whether private ranchers can use federal land. The standoff ended in mass arrests and the death of one of the group's leaders, LaVoy Finicum, in a roadside confrontation with the FBI.
Larson also questioned whether the US should spend some $3.5bn a year fighting forest fires. Forest fires, especially in the western states, have begun increasing in recent years, and by 2025 it is expected 33% of the Forest Service budget will be spent fighting wildfires. The government's total fire management budget is about $2.5bn.
In 2016 five million acres of the US burned in wildfires that destroyed 2,500 homes and other structures causing 21 deaths and $2bn in property damage. "The drought conditions in many areas of the south-east and California worsened the wildfire potential," according to the US National Oceanic and Atmospheric Administration.
"I think the president has been very clear that as part of an overall comprehensive energy solution, that we've got to utilize the resources that we have, that the federal government owns," said White House press secretary Sean Spicer in response to Larson's questions.
"Whether that's the forests or natural resources or minerals that exist above and below the ground, that we have too infrequently looked at our own resources and counted too much on foreign sources of energy," Spicer said.
"Getting a chance to ask two questions on a White House briefing of a spokesman for a president, that I really really think he's going to do great things for America, that was a real thrill," said Larson in an interview on the KXL website.
"I'm really glad to see that President Trump is living up to the kind of transparency that we haven't seen from any other American president, Larson said. Trump, he added, has invited "reporters to ask questions from other parts of the country who are not part of that big media gaggle in Washington DC, who are so disconnected from what America is all about."