A recently resurfaced recording of White House chief strategist Steve Bannon sheds light over what the next area of US military intervention may be.
Bannon's belligerent worldview is well documented already, but the recently resurfaced audio recording, dated March 2016, suggests that US President Donald Trump's adviser has his eyes set on the South China Sea.
While interviewing historian and author Lee Edwards for a podcast for the conservative website Breitbart News, Bannon refers to his time as a navy officer deployed in the Pacific fleet as a basis for his observation over conflict in the area: "I was a sailor there... We're going to war in the South China Sea in five to 10 years, aren't we? There's no doubt about that."
He added: "They're taking their sandbars and making basically stationary aircraft carriers and putting missiles on those. They come here to the United States in front of our face — and you understand how important face is — and say it's an ancient territorial sea."
His interviewee agreed and actually praised the Obama administration for handling China's territorial ambitions: "Sending carrier to South China Sea was a step in the right direction", Edwards said.
As a chief strategist to the president, Bannon is now in a position to influence decisions at the highest level of policymaking. Trump signed an executive order on 28 January to reshuffling the National Security Council (NSC), an influential advisory group to the president on issues of foreign policy and security, downgrading the role of the director of National Intelligence and the chairman of the joint chiefs of staff and allowing Bannon a regular seat instead.
Speaking to ABC's This Week on 29 January, White House spokesman Sean Spicer said that Bannon's experience in the navy justified his presence in those high-level meetings. Before joining Harvard Business School, working at Goldman Sachs, and editing Breitbart News, Bannon served for seven years in the late 1970s and early 1980s, under the Carter and Reagan administrations, first as a surface warfare officer and later as a special assistant to the chief of naval operations at the Pentagon.
"Well, he is a former naval officer," Spicer said "He's got a tremendous understanding of the world and the geopolitical landscape that we have now."
Spicer admitted that Bannon's role in the NSC will allow him to exercise a significant amount of influence in guiding Trump's decision-making on the back of the intelligence provided. "Having the chief strategist for the president in those meetings, who has a significant military background, to help make, guide what the president's final analysis is going to be, is crucial," he said.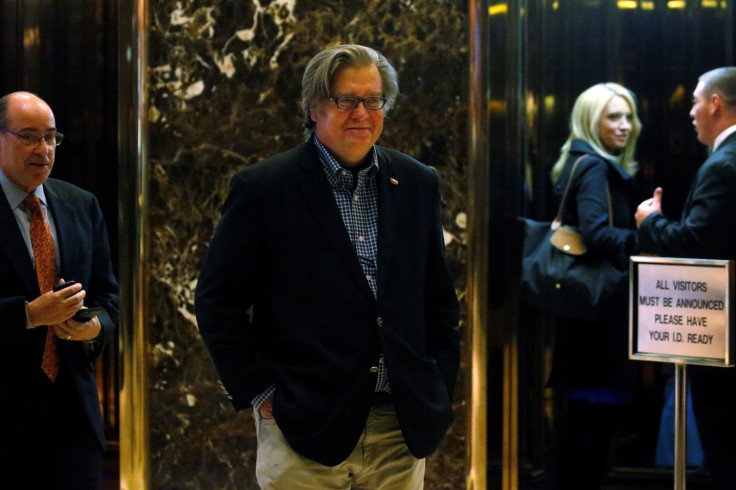 Bannon is not the only one in the Trump administration who believes military confrontation with China may happen in the future. Secretary of State Rex Tillerson already hinted at some form of military intervention in the South China Sea during his senate confirmation hearing, claiming that China should not be allowed to access the disputed territories.
He said: "We're going to have to send China a clear signal that, first, the island-building stops and, second, your access to those islands also is not going to be allowed." The former Exxon Mobil CEO did not provide any further details as to how the US would prevent China from staking a claim over the islands or how it would respond to the country's growing aggressiveness in the region, which is unnerving the US' traditional Asian allies, like South Korea and Japan.
China's reaction came in the form of an incendiary editorial published on 13 January in the Global Times, a national English-language publication belonging to the People's Daily, the Chinese Communist Party official newspaper. It said that the only way to prevent access to the uninhabited islands in international waters that China has unilaterally claimed as its own would be to "wage a large-scale war".
The president himself has done little to avoid controversy with China, openly criticising the country's economic and monetary policies and and speaking to the government of Taiwan, which China does not recognise. Trump has also mentioned China's increased militarisation in the South China Sea via Twitter, slamming China for taking away a US underwater drone.
Beijing however does not seem to mind the US' concerns, as it continues planning an expansion of military presence in the area. Local media reported on 2 February that the country's second aircraft carrier may be based in the South China Sea in a bid to increase China's military capabilities as well as its readiness to deal with what the Chinese media calls "complicated situations".