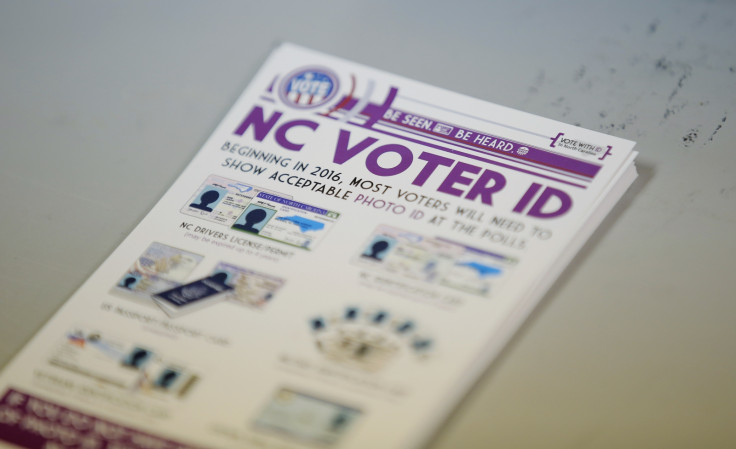 In a divided 4-4 decision, the US Supreme Court declined on Wednesday (31 August) to reinstate North Carolina's strict voter ID law. The battleground state had filed an emergency appeal seeking to bring back the voter ID rule and to reduce the number of days for early voting.
According to NPR, a federal appeals court in July invalidated the restrictions, arguing that they deliberately made it more difficult for African-Americans to vote. Republican Governor Pat McCrory appealed to the Supreme Court to reinstate the law for the election in November.
In a brief written order, the Supreme Court—which has been shy of one justice since the death of Justice Antonin Scalia in February—declined to stay the lower court's ruling.
The Wall Street Journal noted that the case split the justices along ideological lines, with the four conservative justices in favour of the state and the four liberal justices against it.
The voting rules were enacted in 2013 after the Supreme Court struck down a provision of the Voting Rights Act that required areas with history of voting discrimination to pre-clear changes to voting laws with the Justice Department or federal courts.
North Carolina not only required voters to present photo identification when voting, but eliminated same day registration and reduced the number of days for early voting from 17 to 10.
The state, which had also removed out-of-precinct voting, had said it would allow same-day registration and out-of-precinct voting in its emergency appeal.
"The Supreme Court was correct to deny North Carolina's last-ditch efforts to undermine African-American voter participation in the November election," Dale Ho, director of the American Civil Liberties Union's Voting Rights Project, said to the Journal.
Meanwhile, McCrory decried the court's decision saying the ruling "denied basic voting rights already granted to more than 30 other states to protect the integrity of one person, one vote through a common-sense voter ID law."
According to the Wall Street Journal, the case has been closely watched in the lead-up to Election Day in November. North Carolina is considered a battleground state in the presidential election and is also the site of highly contested Senate and gubernatorial races.