New Brazilian President Michel Temer has been sworn into office, on the same day of the historic impeachment of Dilma Rousseff from power. Earlier on Wednesday (31 August) Brazil's Senate voted to remove Rousseff from office for her role in manipulating the budget.
The decision was backed by 61 senators in the upper house while 20 voted against, surpassing the two-thirds majority required to remove her. The move puts paid to 13 years of power for her leftist Workers Party rule in Latin America's largest economy.
Now centre-right Brazilian Democratic Movement Party (PMDB) party politician, Temer, will serve out the remaining two years and four months of Rousseff's term until 1 January 2019. The 75-year-old was already serving as acting president during the impeachment process.
Temer himself was implicated in the Petrobras graft case, which is said to be the biggest corruption scandal in the country. He was accused of handing kickbacks from contracts with state oil company in exchange for campaign contributions. Temer denied these allegations and is expected to address the nation at some point on Wednesday.
Rousseff had denied the charges and according to the BBC she pledged to appeal against her impeachment, saying: "Right now, I will not say goodbye to you. I am certain I can say: 'See you soon.'"
She then added: "They have convicted an innocent person and carried out a parliamentary coup."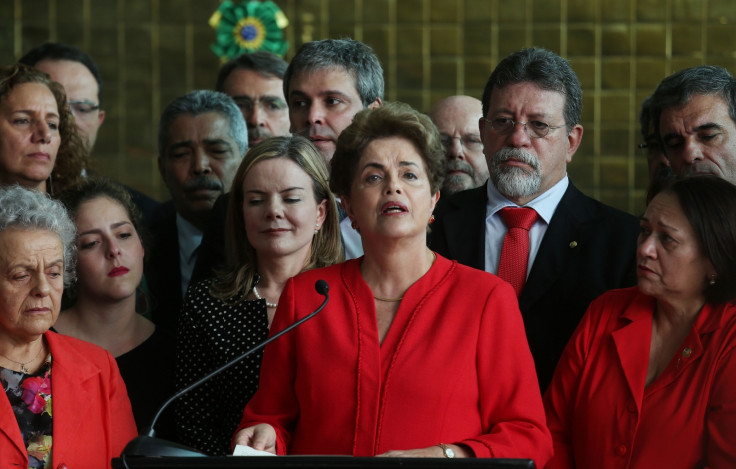 Despite her impeachment, Rouseff has not been barred from holding public office. A Senate vote on whether or not to ban her from holding public office for the next eight years failed to pass.
A former Marxist guerrilla who was imprisoned and tortured, Rousseff, came to power in 2010, but a sharp economic decline saw her support among the public and in government dwindle. Rousseff was re-elected in 2014 by 54 million votes and when representing herself two days ago she declared the vote a "coup."
In neighbouring Venezuela, the leftist government reacted angrily to the senate's decision deciding to remove the Brazilian ambassador and freezing relations with their neighbours.