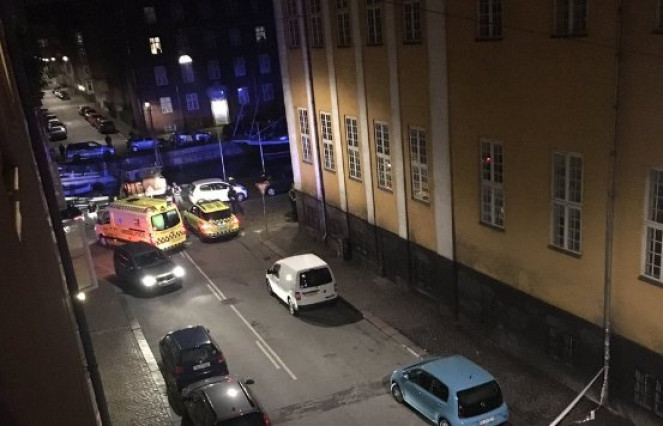 Two police officers and one foreign tourist have been injured in a shooting in Copenhagen. Copenhagen Police posted an alert on Twitter on Wednesday (31 August) as the incident unfolded in the neighbourhood of Christiania.
One officer is believed to be in a critical condition after being shot in the head and the second in the leg. The officers were fired at while engaged in "routine work" in Christiania.
In a statement Copenhagen Police confirmed that a foreign citizen was injured. The shooting victim told police that he has no relatives in Denmark. The Copenhagen Police clarified in a further tweet that the civilian was not injured by the officers.
The officers have been rushed to hospital and their families have been informed of the incident.
Speaking at a press conference outside Copenhagen Police Force's headquarters, the director of Copenhagen police force, Thorkild Fodge provided an update on the situation.
He said: "This is very serious. It affects us when one of our officers is so severely and critically wounded. He is in mortal danger. There is no place in our society for when a young officer in his prime is hit in the head."
He confirmed police know who the shooter is, saying: "We know who you are. Give yourself up. We will find you."
Witnesses reported hearing up to nine shots being fired during the incident near Fredens Ark (Peace Arch), the largest building in Christiania, rt.com reports.
Local newspaper Ekstra Bladet has reported a massive police presence in the area. According to Danish television channel TV2, all roads into Christiania have been cordoned off by heavily armed officers. Trains from Copenhagen to Malmö have also stopped running as police secure the area.
Police have urged the public to stay away from the area as the suspect remains at large.
A motive for the shooting is not yet known.
Christiania, is known locally as Freetown Christiania, and is a self-proclaimed autonomous neighbourhood of about 850 residents, located in the borough of Christianshavn in the Danish capital Copenhagen.