Anti-terror chiefs are taking their battle against Islamic extremism to social networks like Twitter, engaging jihadists in a toe-to-toe online propaganda war.
The US State Department is attempting to engage jihadists in online debate, contesting their claims in a bid to dissuade sympathisers from joining them.
"We are actually giving al-Qaida the benefit of the doubt because we are answering their arguments," said Alberto Fernandez, coordinator of the State Department's Center for Strategic Counterterrorism Communications (CSCC), which runs the programme, named Think Again Turn Away.
"The way I see it is we are participating in the marketplace of ideas," he told CNN.
Alongside the brutal conflict on the ground, the Syrian war is being waged online, with jihadists posting content ranging from pictures of decapitated enemy combatants, to pleas from fighters for Muslims to join their cause, in an effort to broadcast their achievements and further their aims.
A recent report by researchers at King's College London uncovered how radical jihadists were using the internet to lure western Europeans to join jihadist groups in Syria, among them an estimated 366 Britons.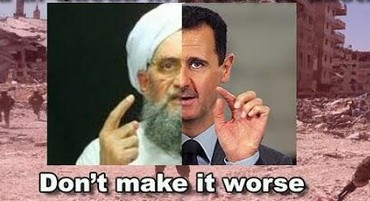 After the report, Facebook closed down the page of radical Australian preacher preacher Musa Cerantonio.
The US government has now taken the online fight to jihadists, with a Twitter feed to dispute their claims, warn of the consequences of joining them, and post bloody pictures of atrocities by jihadists.
Heated debates have ensued, with many memebers of the online jihadist community taking issue with the State Department claims.
"For years, al-Qaida had gotten in the heads of the US government, and the US government had become very sensitive to various al-Qaida talking points," says Will McCants, a scholar of militant Islam at the Brookings Institution, who was involved in setting up the CSCC.
"I felt there's no reason why we can't return that favour... The more you can make them think on these points, the more you can damage their credibility and shape their behaviour," he told CNN.
In recent years, jihadist discussions have moved from discussion boards, to platforms like Twitter, with many now conducted in English.
Militant preacher Anwar al-Awlaki, who was killed in a drone strike in Yemen in 2011, delivered English language sermons on YouTube, and aimed to inspire "lone wolf" attackers without al-Qaida links to commit terror attacks unaided.
"We seek to contest space that previously had been ceded to our adversary," said McCants. Al-Qaida tends to thrive in "the ungoverned spaces of the world," such as "the Sahara desert, or places in Somalia or Yemen or Syria. The internet is also an ungoverned space, so it's an area of opportunity for them," said McCants.