A US eighth-grade teacher has fought off competition from 5,000 educators from across the world to bag a $1m (£680,000) global teaching award.
Nancie Atwell, from Maine, won the GEMS Foundation Global Teacher Prize, launched by former US president Bill Clinton last year, at a star-studded awards ceremony in Dubai.
Atwell, who encouraged her students to read 40 books a year – four times the US national average – and set up the Centre for Teaching and Learning in Maine, said she would use the prize to fund tuition and to buy more books.
CTL, a non-profit demonstration school, has a library in every room and offers its students tens of thousands of books.
In his speech, Clinton – honorary chairman of the Varkey GEMS Foundation – said: "I think the greatest thing this prize has done is to reawaken the world's appreciation of the importance of teachers.
"It is so easy to take for granted the fact that every dedicated teacher on Earth is intelligent and gifted enough to have chosen to do something else with his or her life – almost certainly something that would have paid more.
"This is important to the world there are still too many children – tens of millions of them – not in school," he added.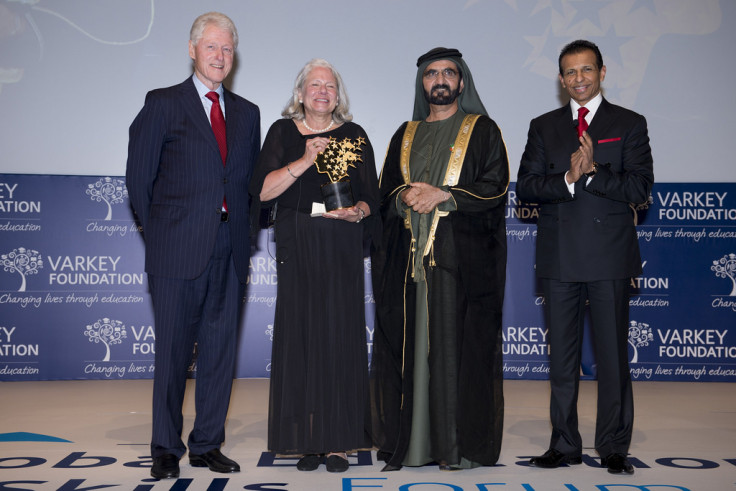 In her acceptance speech, Atwell quoted the English poet John Masefield, who wrote: "The days that make us happy, make us wise".
"The ten of us know that to be true. The goal is excellence always and enegagement in the task whether it is teaching or learning is the means to achieve that. I love teaching, I love my teaching life. I hope to convey to young people that it is a privilege," she said.
The other nine candidates came from across the world, including Afghanistan, India and Cambodia, and a teacher from Huddersfield, Richard Spencer. The GEMS prize is in its second year and is referred to as the Nobel prize for teaching.
The GEMS prize is in its second year and is has been described as "the Nobel prize for teaching".