The US will tighten sanctions on North Korea in an effort to end its nuclear and missile programmes, the Department of Defense (DoD) has announced.
The new strategy was unveiled immediately after President Donald Trump summoned all senators to the White House for a briefing on the matter.
It follows days of rising tensions between the two nations, with North Korea carrying out numerous missile tests and the US responding by sending warships to the region.
In a joint statement announcing the sanctions on Wednesday (26 April), Secretary of State Rex Tillerson, Secretary of Defense James Mattis and Director of National Intelligence Dan Coats said: "Past efforts have failed to halt North Korea's unlawful weapons programmes and nuclear and ballistic missile tests.
"With each provocation, North Korea jeopardizes stability in Northeast Asia and poses a growing threat to our allies and the US homeland. North Korea's pursuit of nuclear weapons is an urgent national security threat and top foreign policy priority.
"Upon assuming office, President Trump ordered a thorough review of US policy pertaining to the Democratic People's Republic of Korea (DPRK).
"Today, along with chairman of the Joint Chiefs of Staff General Joe Dunford, we briefed members of Congress on the review. The president's approach aims to pressure North Korea into dismantling its nuclear, ballistic missile, and proliferation programs by tightening economic sanctions and pursuing diplomatic measures with our allies and regional partners."
Prior to announcing the idea of greater sanctions, Trump hosted 15 Security Council ambassadors of the United Nations in the White House a day earlier to float the idea.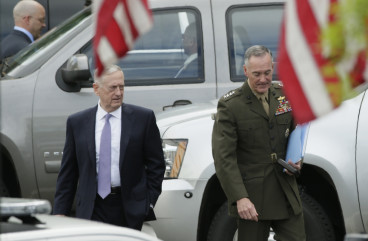 Following the meeting, US officials told Reuters that tougher sanctions could include an oil embargo, banning North Korea's airline and punishing foreign banks that continue to trade with the country.
Admiral Harry Harris, the commander in charge of US forces in South Korea has warned that if left unchecked, North Korea's capabilities will soon match its rhetoric.
"North Korea vigorously pursued a strategic strike capability in 2016," he said.
"Kim [Jong-un]'s strategic capabilities are not yet an existential threat to the US, but if left unchecked, he will gain the capability to match his rhetoric."
He added: "In confronting the North Korean threat, it is critical that the US be guided by a strong sense of resolve both publicly and privately in order to bring Kim Jong Un to his senses, not his knees."
The DoD statement added that the US intends to bring North Korea back into the fold of normalised diplomatic relations, but will use military force if necessary.
"We are engaging responsible members of the international community to increase pressure on the DPRK in order to convince the regime to de-escalate and return to the path of dialogue," the statement said.
"We will maintain our close coordination and cooperation with our allies, especially the Republic of Korea and Japan, as we work together to preserve stability and prosperity in the region.
"The United States seeks stability and the peaceful denuclearization of the Korean peninsula. We remain open to negotiations towards that goal. However, we remain prepared to defend ourselves and our allies."