The US military on Wednesday (26 April) started bringing in launchers, radar and other key parts of its advanced anti-missile defence system to the site in South Korea where it is to be deployed.
The surprise move to accelerate the deployment of Terminal High-Altitude Area Defense system (Thaad) came amid heightened tensions in the peninsula as North Korea showed off fire power during its largest-ever live-fire drill on Tuesday.
Local media reports suggest that the unannounced, overnight operation came less than a week after US Forces Korea secured the site – a golf course – in Seongju, south of the country.
The decision by the US sparked strong protests by local residents. A spokesperson for South Korea's presidential election front runner Moon Jae-in called the move as "very inappropriate".
According to Moon, the deployment was strongly regrettable and that it stripped the next Seoul government of its right to decide on its own about Thaad.
Moon demanded that the deployment be suspended until after the next government is formed. He said that the US' decision "ignored public opinion and due process".
The Pentagon announced that it plans to complete installing the Thaad equipment as early as possible.
The allies signed a deal in July 2016 to deploy Thaad on the Korean peninsula to help intercept Pyongyang's ballistic missiles. However, the move has angered China as it believes the positioning of the missile system could threaten its security. South Korea and the US have maintained that the system will only be used contain North Korea's missile threats.
"South Korea and the United States have been working to secure an early operational capability of the Thaad system in response to North Korea's advancing nuclear and missile threat," South Korea's defence ministry said in a statement.
It added that the battery of the system is expected to be operational by the end of 2017.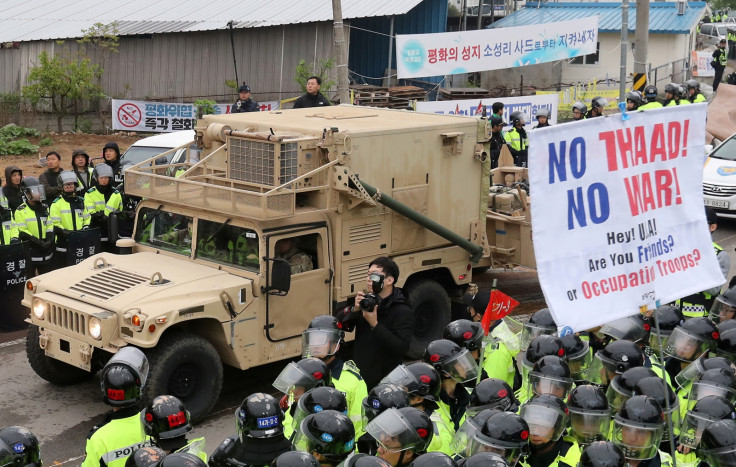 Protests
Video footage broadcast by the local media showed six military trailers carrying large units being driven into the Thaad battery site, located about 250kms (155 miles) south of Seoul. The parts, believed to be launch canisters, high-profile X-band radar of the missile, were also seen entering the civilian-restricted zone. The video also shows protesters throwing water bottles at the vehicles carrying the equipment.
Around 200 residents of the region near the site reportedly rallied overnight against the deployment.
According to Reuters, more than 10 protesters were injured during the demonstrations, with some of them reportedly suffering from bone fractures.