US: Donald Trump's anti-Muslim comments 'disqualify him from presidency' as UK hits back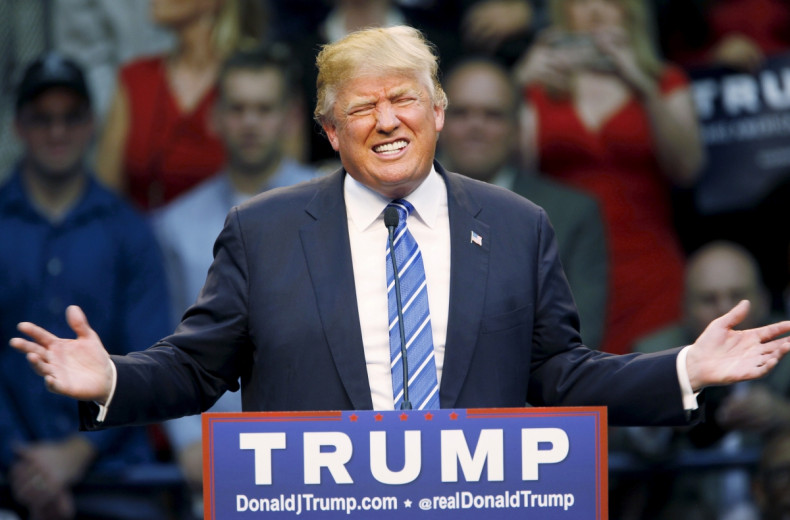 Republican frontrunner Donald Trump's calls to ban Muslims from entering the US disqualifies him from being president, the White House has said. The comments from the Grand Old Party (GOP) candidate have also been widely condemned in the UK, with prime minister David Cameron calling them "divisive and unhelpful" while Labour leader Jeremy Corbyn said his remarks constitute "an attack on democratic values".
"What Donald Trump said yesterday disqualifies him from serving as president," White House press secretary, Josh Earnest said at a briefing on 8 December. Earnest denounced Trump's comments as "offensive" and "toxic", and the outspoken firebrand has also been criticised from rival politicians in the Republican party.
Earnest noted that each and every president is required to take an oath to "preserve, protect and defend" the constitution and Trump's remarks excludes him from the presidential race. "What he said is disqualifying and any Republican who's too fearful of the Republican base to admit it has no business serving as president either," Earnest said.
"For Republican candidates for president to stand by their pledge to support Mr Trump, that in and of itself is disqualifying," Earnest added in a thinly veiled swipe at GOP members who insisted they would still support Trump if he was the party leader. "The question now is about the rest of the Republican Party and whether or not they're going to be dragged into the dustbin of history with him. And right now the current trajectory is not very good." An angry Earnest also labelled Trump a "carnival barker" whose campaign has a "dustbin of history" quality to it.
Issuing a call to bar Muslims entry to the US on 7 December, Trump said: "Until we are able to determine and understand this problem and the dangerous threat it poses, our country cannot be the victim of horrendous attacks by people that believe online in Jihad, and have no sense of reason or respect for human life."
Trump has also faced a strong backlash in the UK from both the government and Labour party after claiming that parts of London were so radicalised that they are no-go zones for police. The official spokeswoman for Cameron said that Trump's comments are "quite simply wrong" while London mayor Boris Johnson said his remarks were "complete and utter nonsense" and Corbyn called them an "affront to common humanity".
The Metropolitan Police said: "We would not normally dignify such comments with a response, however on this occasion we think it's important to state to Londoners that Mr Trump could not be more wrong. Any candidate for the presidential election in the United States of America is welcome to receive a briefing from the Met Police on the reality of policing London."
Republican candidate Jeb Bush called Trump "unhinged" and slammed his policies as "not serious" while the mayor of St Petersburg in Florida has banned him from entering the city. Rick Kriseman tweeted: "I am hereby barring Donald Trump from entering St. Petersburg until we fully understand the dangerous threat posed by all Trumps."
The real irony lies in the fact that Trump projects himself as one of the only politicians concerned about the terror threat in the US, but top security officials have warned that his verbal attacks on the Muslim community undermine national security. "It is irresponsible to do this and contrary to our national security efforts," US Homeland Security Secretary, Jeh Johnson said. "We are renouncing and rejecting his remarks." He added that Trump's remarks are "irresponsible - probably illegal, unconstitutional and contrary to international law - un-American, and will actually hurt our efforts at homeland security."
Pentagon spokesman Peter Cook warned: "Anything that bolsters ISIL's (Isis) narrative and pits the United States against the Muslim faith is certainly not only contrary to our values but contrary to our national security". He added: "We want to, in essence, take the fight to ISIL with the help of Muslims around the world."