Protests against the US bombing of Syria have erupted in London, New York, Philadelphia and La Paz, Bolivia, as the president of the United Nations General Assembly called for "no further escalation" of hostilities.
Hundreds of protesters joined an evening demonstration in Westminster on Friday called by the Stop the War Coalition.
The coalition, which called the US attack "utterly irresponsible", said on its Facebook page: "This action will only increase the level of killing in Syria, and inflame the terrible war that has already caused untold misery for the people of the country.
"​​This is the worst possible way to respond to the indefensible attack at Khan Sheikhun."
In New York, anti-war protesters numbering in their hundreds gathered outside Trump Tower.
"We must not fall for the lies and propaganda," said organiser the Answer Coalition, according to #HandsOffSyria.
"Just like the rest of [Donald Trump's] agenda, his attack is about increasing the profits of the billionaires."
The missile attack has split global opinion with Russia, one of the main backers of the Assad regime, calling it a provocation.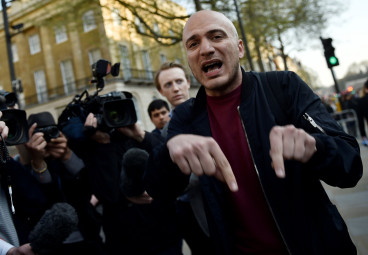 In the US Senate, the unilateral decision by Trump to launch the missiles was criticised.
Republican Rand Paul said: "The Constitution is very clear that war originates in the legislature.
"You vote before you go to war, not after you go to war."
The White House said it would keep up the pressure on Syria's president Bashar al-Assad but officials said that did not mean a "deeper conflict" in the region.
The UK, Japan, Saudi Arabia and Turkey were among those supporting the US military move.
The legality of Thursday's missile attack on Sharyat airbase in Syria, which was in response to the sarin gas attack on the town of Khan Sheikhoun in which at least 80 people died, was called into question by the UN ambassador of Sweden.
Olof Skoog said it "raises questions of compatibility with international law".
He told an emergency meeting of the UN Security Council Friday that any action had to be based on international law.
Authorisation for the bombing was not sought from the Security Council or Congress, he said.