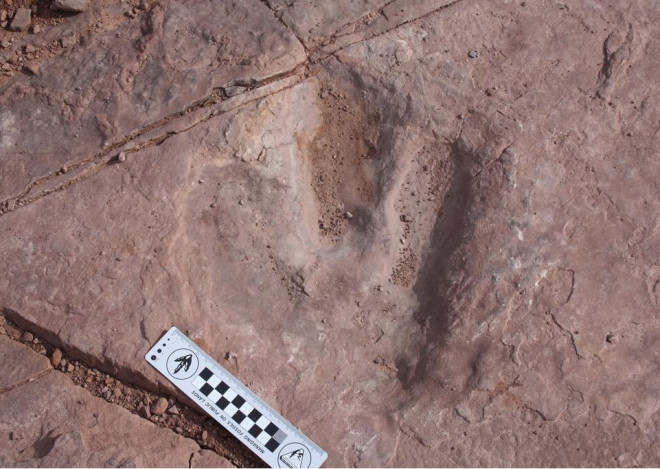 A man in Utah is facing up to 20 years in prison for the unusual crime of stealing a dinosaur footprint.
Jared F Ehlers was indicted by a federal grand jury on four counts relating to the removal of a 190 million-year-old dinosaur footprint from a slickrock near Moab, The Salt Lake Tribune reports.
Ehlers, 35, is accused of damaging or removing government property. The most serious count he is charged with carries a maximum prison sentence of 20 years.
The US Attorney for Utah confirmed Ehlers will be issued a summons to appear before the District Court.
The footprint was one of 20 in an area near the Sand Flats Recreation Area. The missing print was discovered by an off-road tour operator who had taken a group of visitors to see the dinosaur footprints.
Utah is known for having a vast amount of dinosaur fossils, with the state located in the southern part of an area known as Laramidia.
Laramidia was a landmass that formed in the west when a shallow sea flooded the central region of North America, dividing the east and west for millions of years.
An inspection of the site from where the print was taken showed how the rock had become partly loose and was then pried free, Rebecca Hunt-Foster, Canyon Country palaeontologist said following the theft.
"When fossil resources like dinosaur tracks are damaged, vandalised or stolen, we all lose something priceless," said Hunt-Foster.
"These fossils belong to all Americans. When fossils like these are taken, we lose irreplaceable scientific and educational opportunities to explore some of the natural history that makes Utah's public lands so special," she added.
Following its theft, locals who make a living from dinosaur tourism in the area put up a reward for its safe return.
Jason Taylor, operations manager at Moab Adventure Center, who contributed to the reward, said he had been disappointed to hear a local man had been charged with the theft: "It kind of proves a point that we locals here are not going to tolerate people coming in and taking what's here."
Despite a search, the footprint is yet to be recovered. It is thought it might have been thrown into the Colorado River, but a search came to no avail.