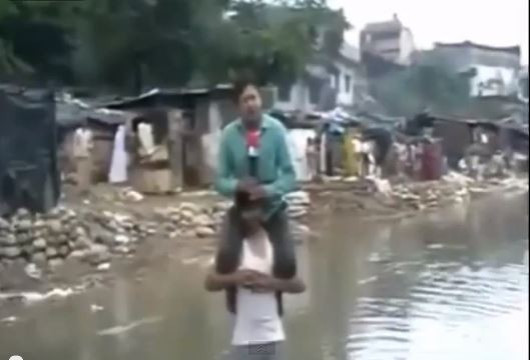 A television reporter covering the Uttarkhand floods in India has been widely criticised and fired from his job, after filing a report sitting on the shoulders of a flood victim.
In a video on the Internet, News Express' Narayan Pargaien is seen on the shoulders of a man only recently rescued from the floods. Pargaien, who has 18 years of experience, has defended his actions. He claims his carrier was happy to do so, according to the Hindustan Times.
Pargaien has also blamed his cameraman for not cutting the frame of the video to hide the man carrying him on his shoulders. He also claimed to have paid the flood victim Rs 50 (roughly 50p). The video was taken with a wide angle lens and was reportedly uploaded on the Internet by the cameraman himself.
"It wasn't my idea to begin with, but there was this man who took me to his home and asked me to report the damage he had suffered," Pargaien explained.
"We helped him with some food and some money and he was grateful to us and wanted to show me some respect, as it was the first time someone of my level had visited his house. So while crossing the river he offered to help by carrying me on his shoulder," he added.
The beleaguered reporter also hit out at what he felt was unjust criticism, although he did agree the decision to climb on the man's back was inappropriate.
"I don't think they are all fair. On the one hand what I did was journalistically wrong, but how it's being portrayed now on YouTube and Facebook, like a joke, doesn't feel like its fair," he said.
"Also the report was supposed to be telecast only with footage of me chest-up. This was entirely the cameraman's fault, who, it seems, almost tried to sabotage my career by shooting from that distance and angle and releasing the video mocking this whole incident, and making me the villain," Pargaien added.
Meanwhile, Pargaien's employers have since released a statement, calling their former employee's actions "not just inhuman" but also "against the culture of our esteemed organisation".
An excerpt from the statement reads:
"News Express Channel did not broadcast this video of Mr. Narayan Pargaien but it was uploaded by someone we don't know. This channel terminated Mr. Pargaien with immediate effect, as such an act by the reporter is a grave misconduct which goes against cultural values of our channel."
The floods and landslides in the northern Indian state of Uttarakhand, which were caused by massive pre-monsoon rains, have already claimed 800 lives. Rescue operations in the region continue, with the Indian Army and Air Force having been pressed into action.
Watch Narayan Pargaien's controversial reporting here:
[Video Courtesy: YouTube/allvidsviral]