Whether it is a card, flowers or badly written poetry, Valentine's Day is universally celebrated by men and women across the world.
Not every countries celebrates 14 February, however. In South Korea, it is tradition for those who did not receive a gift on Valentine's to go to a Chinese restaurant to eat black noodles on "Black Day", 14 April.
Here are our pick of other strange and wonderful traditions from across the globe, from celebrating friendship in Finland to eating eggs in Britain.
Eating eggs
While most give a card and chocolates, it was customary for women in 18th-century Britain to pin bay leaves to the corners of their pillows. It was also tradition to eat eggs with salt replacing the yolks, which was said to encourage women to dream of their future husbands. Women would also write their lover's names on paper and place them in clay balls, which would be dropped into rivers or streams. Whichever paper came up first would be the first husband.
Friend's Day
In Finland, Valentine's Day is called Ystävänpäivä, which translates as "Friend's Day". Rather than romance, it is a day when close friends send cards and gifts to each other. However, it is still a popular day for people to become engaged.
Time to work in the fields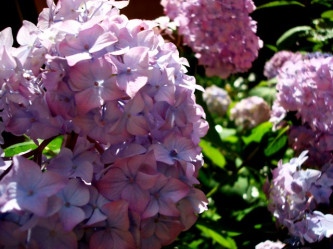 As the annual day of love is actually celebrated on St Gregory's Day (12 March) in Slovenia, Valentine's Day is seen as the day to resume working in the fields. St Valentine is one of the Slovenian saints of spring and it is said that plants and flowers start to grow on this day. It is also thought that the birds of the fields proposed to loved ones on this day.
Spoons on Welsh Valentine's Day
This day actually takes place on 25 January and commemorates the Welsh saint Dwynwen. The legend states that she fell in love with a young price named Maeron, but they could not be together so an unknown reason. Three reasons are suggested: Maeron raped Dwynwen, her father forbade the marriage or her father had promised her to someone else. Distraught, Dwynwen prays to fall out of love with Maeron and she is given a potion by an angel, which erases her feelings and turns him to ice. Traditionally, St. Dwynwen's Day is celebrated by giving and receiving lovespoons.
Obligatory chocolates
In Japan, it is traditional for women to gift men chocolates, depending on the nature of their relationship. Giri-choko is bought for colleagues, bosses and close male friends. Giri, which translates as obligation, is not associated with romance. Honmei-choko is given to lovers, husbands or boyfriends.
Men are expected to return the favour one month later, with gifts at least two or three times as valuable than the chocolates they received. Not returning a gift is peceived as the man placing himself in a position of authority.