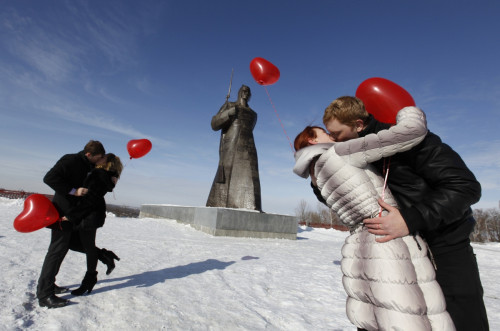 Gone are the days when the height of romance on Valentine's Day were the ubiquitous bunch of red roses, greeting cards, teddies and box of chocolates. The special day on the calendar for lovers now has its own vavavoom factor in the noughties and a plethora of ways to make the occasion truly special for smitten couples.
Revolution in technology is also changing the face of gifting. Smart phones, mobile phones with GPS and built-in cameras, and other gizmos are must-have gifts for today's tech-savvy partners.
Old favourites are still Valentine's Day staples; The candlelight dinner, an encrusted diamond ring, jewellery or similar accessories will still go down a storm, but for some unique gifts and experiences to win your partner's affection why not try out other ideas below;
Full Moon night out
Valentine's Day 2014 is going to be really special as the day falls on a full moon, considered a rare occurrence. The full moon will rise right before the strike of midnight at 11:55 pm GMT on Valentine's Day in UK. The next such coincidence is in 2033.
To relish this rare event, a night's escape to the plains, a stroll along the beach or lake, a hike to a hilly region, or a wander along the Thames under moon-lit skies with a loved one could add to the magic of Valentine's Day this year.
Friday bash
Valentine's Day falls on a Friday when London comes alive at party hot spots. Make it a unique outing with a romantic dance with your partner at a special venue. Click here for a list of romantic restaurants in London.
Fly away with your love
Enjoy a bird's eye view of London with The London Helicopter offering a special couple price of £298 on 14 and 15 February.
The London Helicopter also has an exclusive sunset flight on Valentine's Day. The flight will take off from Battersea Heliport at 5pm and fly over the stunning London Skyline.
A Georgian ball
For couples who love an historical romance, a Georgian inspired banquet awaits them at the grand entrance hall of the British LIbrary. The ancient-themed feast will also feature an interactive performance, baroque musicians and Quadrilles.