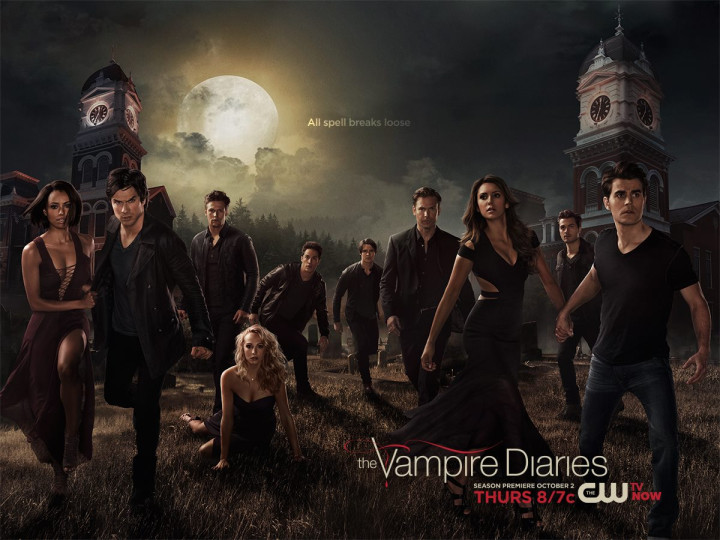 Vampire Diaries Season 6 episode 2 brought both good and bad news for fans as they learned that their favourite vampire Damon is alive and is living the same day over and over again with friend Bonnie in the Mystic Falls of the 90s.
But soon Bonnie realises that they are not alone in the 1994 Mystic Falls and someone else is staying with them.
In the second episode titled "Yellow Ledbetter" it was revealed that Damon and Bonnie are still in a part of Mystic Falls after the Other Side collapsed.
Fans also learned that the couple is living the same day of 10 May, 1994 over and over again. Bonnie discovers that the crossword puzzle gets solved triggering speculation about someone else living with them.
Bustle.com suspects that it can be Lexi who was last seen in the Season 5 finale. The website speculates that only Lexi can save Stefan from his road to devastation and she may help Bonnie and the elder Salvatore brother to figure out a way back home.
Meanwhile, unable to cope with the sudden demise of her toxic lover, Elena Gilbert decides to take the drastic step of erasing Damon's memories with the help of Alaric.
Delena fans are currently nursing their broken heart as Elena is now thinking of her love as Stefan's monstrous brother.
Enzo, on the other hand, is not giving up on his fight to bring back his lost friends and to reclaim their home which is still reeling under the curse of the travellers.
In the last episode, Enzo killed the human girlfriend of the younger Salvatore brother which will not go down well with Stefan.
In the upcoming episodes, the gang will reunite to bring in some change in their already boring life while Damon's younger brother will be hunting Enzo to avenge his girlfriend's death.
There are reports that Jeremy will eventually discover the anti-magic spell to reclaim Mystic Falls but this would pose danger to the life of his sister.
Vampire Diaries Season 6 Episode 3 "Welcome to Paradise" airs on the CW network on 16 Ocotber.