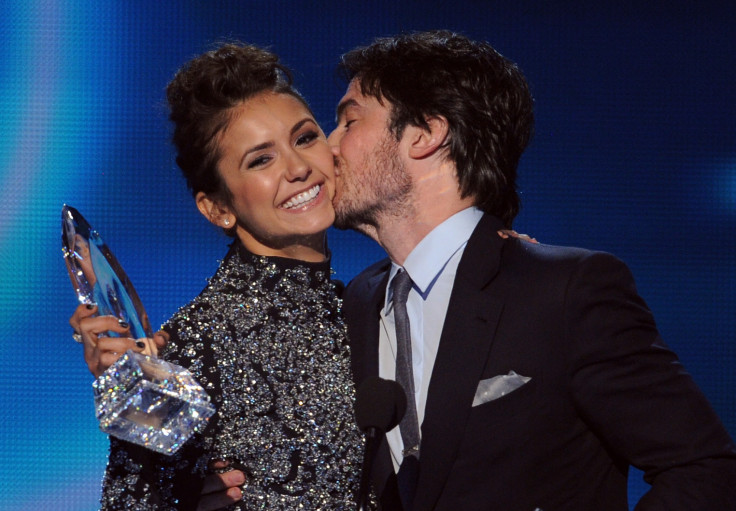 The Vampire Dairies stars Ian Somerhalder and Nina Dobrev split back in 2013, but rumour mills have it that there are "some feelings left between them".
According to Celeb Dirty Laundry, Nina is reportedly planning to win her ex back.
"After remaining distant and awkward for the longest time, rumor has it that both Nina Dobrev and Ian Somerhalder have slowly started to get closer and more intimate on the set of The Vampire Diaries," the website reported.
Although it seems a little too late for Dobrev as Somerhalder is newly engaged to current girlfriend Nikki Reed. But, since the former couple remained close as friends after they split, nothing can be said as Somerhalder had first reportedly proposed to his co-star.
Even after Dobrev was romantically linked to Orlando Bloom, Derek Hough, Liam Hemsworth and Chris Wood, Somerhalder stayed close to his former girlfriend.
However, things turned ugly between the two when Somerhalder moved Nikki to Atlanta, Georgia, where The Vampire Diaries was being filmed and started taking her to the sets. Reports had then suggested that Nina started getting annoyed and used to get upset by her presence on the sets.
There were reports that said the actors had then asked the show's producers to give them less screen space.
Meanwhile, it looks like Dobrev will not wait around too long to see if she can get Ian Somerhalder back.
According to Movie News Guide, Dobrev was out and about with her best friend Julianne Hough and was joined by one of Hollywood's hottest leading men, Zac Efron. The two actors are currently in Atlanta to shoot their scenes for their upcoming movie, Dirty Grandpa.
The three had gone bowling at The Painting Pin in Buckhead. They were also spotted posing for a photo together with the bowling alley's owner, Justin Amick.