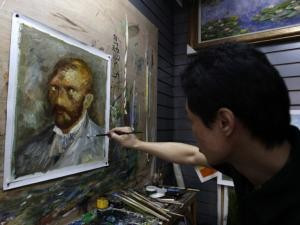 Vincent van Gogh did not kill himself but was instead shot dead by a teenage boy with a Wild West obsession, new research suggests.
The Dutch artist is widely believed to have committed suicide by shooting himself in the chest in a field in France.
However, according to Steven Naifeh and Gregory White Smith - authors of a new biography titled, Van Gogh: The Life - the artist is more likely to have been shot accidentally by two local boys he knew who had "a malfunctioning gun".
The authors reached the startling conclusion after 10 years of study with over 20 translators and researchers, the BBC reports.
The new theory contradicts the accepted version of events, which reports that Van Gogh shot himself in a field in Auvers-sur-Oise before stumbling a mile back to the inn where he was staying.
Van Gogh died 30 hours later, aged 37. The book claims the artist was seen in the field with two boys and one, believed to be 16-year-old Rene Secretan, accidentally shot Van Gogh in the chest.
"[It was] very clear to us that he did not go into the wheat fields with the intention of shooting himself," author Steven Naifeh told the BBC.
"The accepted understanding of what happened in Auvers among the people who knew him was that he was killed accidentally by a couple of boys and he decided to protect them by accepting the blame."
The authors believe Van Gogh did not accuse Secretan of shooting him because he wanted to die and didn't want the teenager to be punished.