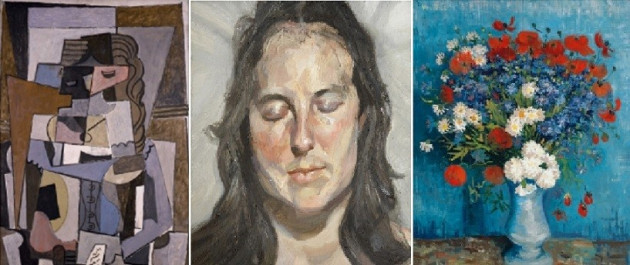 Paintings by world-renowned artists including Picasso, Van Gogh and British painter Lucian Freud have been stolen from a gallery in Holland.
The paintings were stolen from Rotterdam's Kunsthal Museum, where they were among the star attractions in an exhibition from the Triton Foundation entitled Avant-Gardes.
Police have said that the attack took place around 3am on Tuesday morning, and the thieves stole a total of seven paintings. However it has yet to be revealed exactly how much the paintings are worth.
"There was a break-in during the night and a few paintings were taken that represent a considerable sum," a police spokesperson said.
Experts interviewed in the wake of the heist believe the combined value of the paintings is several million pounds.
In addition to the aforementioned trio, the thieves removed paintings from the seminal French painters Matisse, Monet and Gauguin, and Van Gogh's fellow Dutchman Meyer de Haan.
Picasso's Harlequin Head, Monet's paintings of Waterloo and Charing Cross Bridge, and Matisse's Reading Girl were among the works stolen.
It is unclear how the theft took place, although the police said in a statement that "an initial investigation suggests that the robbery was well prepared."
The Kunsthal Museum was closed to the public, just a week after the Avant-Gardes exhibition opened to the public. Police said they are reviewing CCTV footage of the theft, and appealing for witnesses to come forward.
Emily Ansenk, Kunsthal's director, is due to return to the museum after visiting Turkey on business.