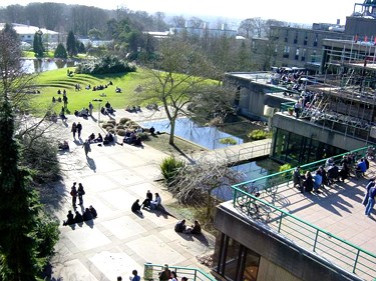 A university student who plunged 20ft to her death from a warehouse roof may have been the victim of a "drunken prank", according to investigators.
Vanessa Clarke, 22, a student at University of Bath, fell from the roof of a builders' merchants in the early hours of Saturday morning. It remains unclear why she was there and it is thought she may have become involved in drunken antics.
Attempts were made to resuscitate the university cheerleader, but she died on the scene after landing on a concrete floor.
Police said that they are treating the undergraduate's death as an accident while a coroner continues to investigate the incident.
The Travis Perkins warehouse, where the accident occurred, is close to Green Park Tavern, which is popular with students.
In addition to leaving flowers and a Bath Jets cheerleading squad jersey at the site of accident, the third-year student's peers have taken to Twitter to express their condolences.
Satender Kumar Mall, a fellow cheerleader, wrote: "Sad to hear that my project colleague Vanessa Clarke passed away... May her soul rest in peace. She was honest and hard-working team member."
Another friend, Bath student Stephen Goater, said: "Truly a pleasure to have known and worked with you, Vanessa."
The University of Bath issued a statement announcing Clarke's death to students and faculty.
It said: "The university wishes to express its deepest sympathies to her family and friends.
"We recognise the impact this will have on students and staff who knew Vanessa and are offering a range of support."
A police spokesman said: "Attempts were made to resuscitate her but were unsuccessful. She sadly died at the scene. We're not treating the death as suspicious."