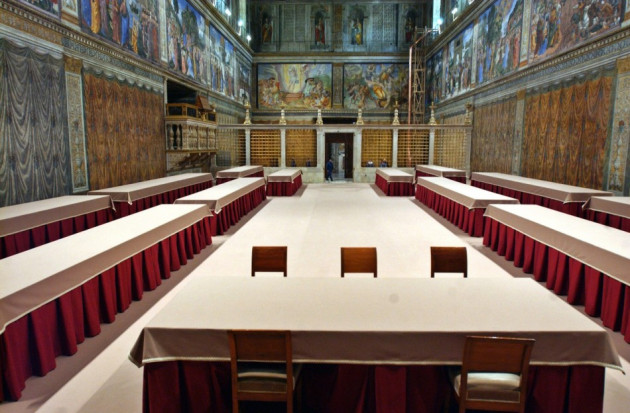 Catholic cardinals are heading to the conclave in Rome to choose the successor of Pope Benedict XVI when the Church is facing many a problem from across the corners.
The first round of voting will take place later in the day and the secretive conclave could go on for several days as there is no clear frontrunner.
The 115 cardinals from across the countries will enter into the Sistine Chapel following a special Mass called "For the Election of the Supreme Pontiff" in St Peter's Basilica at 09:00 GMT.
The search for a successor was prompted by the sudden resignation of Pope Benedict XVI citing health issues.
The cardinal electors will vote four times a day until a successor is chosen by a two-third majority.
The Catholic priests will be completely shut off from any communication with the outside world during the whole process.
The 266th pope will have a daunting task of leading the millions of Catholic followers amid huge challenges. The Church has been facing several problems ranging from sexual abuse scandals to bureaucratic squabbling in Vatican.
"We are ready to enter the conclave and it will be longer than the last one. It will last a few days. Maybe four or five," said Wilfrid Fox Napier, a cardinal from South Africa.
The last election in 2005 was concluded within 24 hours after four rounds of voting as Cardinal Joseph Ratzinger was a clear favourite.
Names of Italy's Angelo Scola, Brazil's Odilo Scherer, Timothy Dolan from the US, Canada's Marc Ouellet, and the Argentine Cardinal Leonardo Sandri have all been pitched for the successor.
"Last time around there was a man of stature, three or four times that of any other cardinal. That is not the case this time around. Therefore, the choice has to be made among one, two, three, four... a dozen candidates. We still don't really know anything. We will have to wait for the results of the first ballot," French cardinal Philippe Barbarin told Reuters.
Soon after the voting, the ballot papers will be burned. The colour of smoke coming out of chapel's chimney will let the world know whether the bishop of Rome has been chosen. Black smoke will indicate no one has been chosen while a white smoke will tell the arrival of new pope.
Fervent efforts have been taken by the Church to avoid leaking details of the process to public.