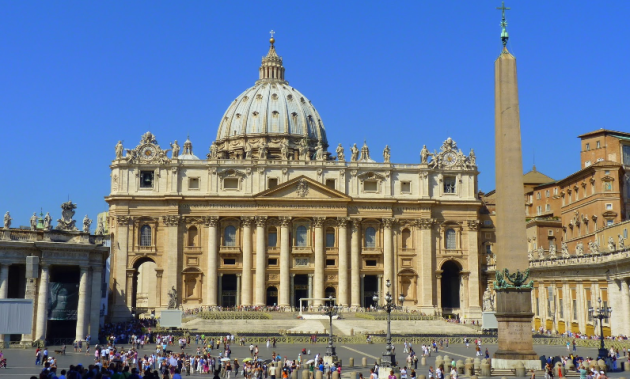 Credit cards have been banned from Vatican City over money-laundering fears.
The ban was imposed by the Bank of Italy because it said controls in the Holy See were not stringent enough.
But a Vatican spokesman said disruption was expected to be short-lived.
Despite a public lack of concern, being unable to take plastic could be a serious problem for the tiny city state. Visitors sank €91.3bn £75.5bn) into its coffers in 2011.
The timing is bad for the city, the spiritual centre for 1.2 billion Catholics, as it comes to grips with financial problems after a spiralling budget crisis was revealed in its accounts.
Italy's central bank refused to give a permit to provide electronic payment services to Deutsche Bank Italy because of a lack of oversight measures to tackle money laundering. Permission is needed by the bank under Italian regulations.
A source at Italy's central bank told Reuters: "The Bank of Italy did not approve Deutsche Bank's request for a licence because Italy does not see the Vatican as a fully compliant country under money-laundering norms."
A statement by the Vatican gave few details, except to say that its point-of-sale arrangements had expired and that discussions were under way with other service providers.
In 2012, serious failings at the Vatican Bank were found during an investigation by Moneyval, an EU money-laundering watchdog. It called for strengthening of anti-laundering measures and greater transparency.