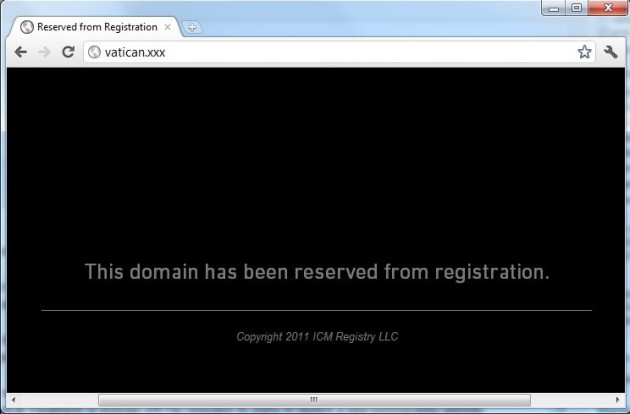 Internet users who prefer their smut with a side of guilt are in luck as fresh reports suggest an unnamed "entrepreneur" has purchased the Vatican.xxx web site domain.
Reuters reported Wednesday that an "unnamed" individual had purchased the vatican.xxx web address - a domain reserved for pornographic content. Dispelling rumours the Vatican had bought the site as a means to grant people an alternative root to seeing God, Reuters went on to clarify the domain had not been purchased by the Vatican itself.
"This domain is not available because it has been acquired by someone else, but not the Vatican," Reuters reported Vatican spokesman Father Federico Lombardi as saying on Vatican radio. The identity of the buyer remains a mystery and is the latest high-profile .xxx name to be purchased since the domain ending became available earlier in 2011.
While most companies protectively purchased the .xxx equivalents of the their real web sites, other organisations have actually embraced the "revolution," launching their own porn sites. Most famously, back in September animal rights group People for the Ethical Treatment of Animals (PETA) revealed its plans to launch a new pornography website.
The new PETA triple-X site promised to mix pornographic images with footage and scenes of intense animal suffering. In its statement PETA clarified it hoped to use the variety of imagery to shock visitors to the site, thus raising awareness of veganism.
"We're hoping to reach a whole new audience of people, some of whom will be shocked by graphic images that maybe they didn't anticipate seeing when they went to the PETA triple-X site," commented Lindsay Rajt, PETA's associate director of campaigns to Reuters.
"'We really want to grab people's attention, get them talking and to question the status quo and ultimately take action, because the best way we can help the greatest number of animals is simply by not eating them," Rajt later commented to the Huffington Post.
At the time of writing, no live content was on the vatican.xxx site past a message clarifying "This domain has been reserved from registration."