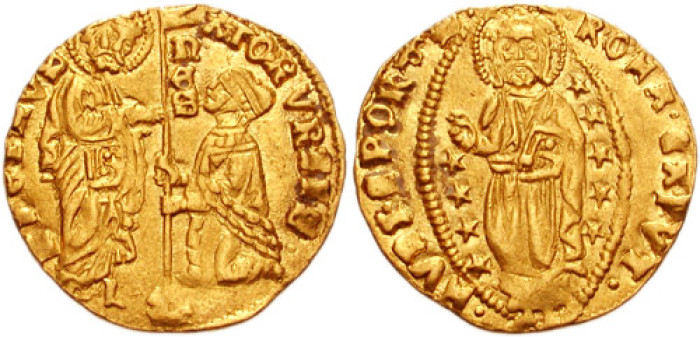 The Vatican was once involved in piracy and bribery, new documents from its archives have revealed.
The newly published documents detail a medieval story about a dead bishop's treasure, the pope, and a pirate named 'Fire Fart'.
According to Live Science, the story goes that the São Vicente ship set sail from Lisboa (modern day Lisbon) in 1357 CE, headed for Avignon, France, where Pope Innocent VI was based.
The ship was carrying a large haul of treasure belonging a dead bishop, Thibaud de Castillon.
De Castillion had acquired a large amount of wealth over the years. Even though it was believed to be through questionable circumstances, the papal administration turned a blind eye, as they were keen to inherit his riches.
Just off the coast of Spain, the São Vicente and its crew were attacked by two pirate ships. One ship was commanded by Martin Yanes. The other was commanded by Antonio 'Botafoc', whose last name translates as 'Fire Blast' or 'Fire Fart'.
According to two of the paper's editors, Daniel Williman and Karen Ann Corsano, Botafoc's ship carried a lot of fire power and weapons. There was no hope for the crew of the São Vicente, so they surrendered and gave up the treasure.
It is unknown what happened to Yanes and his crew, but speculation suggests he may have got away with a sizeable amount of loot.
Unfortunately, Botafoc's ship ran aground near the town of Aigues-Mortes in France, where the crew was captured and hung on the beach, possibly from the Lanteen spar (the area that's used to rig the sails) of their own ship.
"The poor common sailors were extra-judicially hanged. They were, by tradition, hostes humani generis, enemies of the human race, like highway brigands, and no law protected them," Williman and Corsano told Live Science.
Botafoc and some of his officers were able to escape the death sentence and were sent to prison, after giving the bishop of Torino a very large sum of gold. The pirate captain and his officers were later let out of prison having paid a fine.
What was left of the treasure, was sent to the pope and added to the Vatican's wealth. Most of it was given as gifts to royalty, or as payment to the Vatican's staff.
The full story has been published in the book The Spoils of the Pope and the Pirates, 1357: The Complete Legal Dossier from the Vatican Archives, by The Ames Foundation.