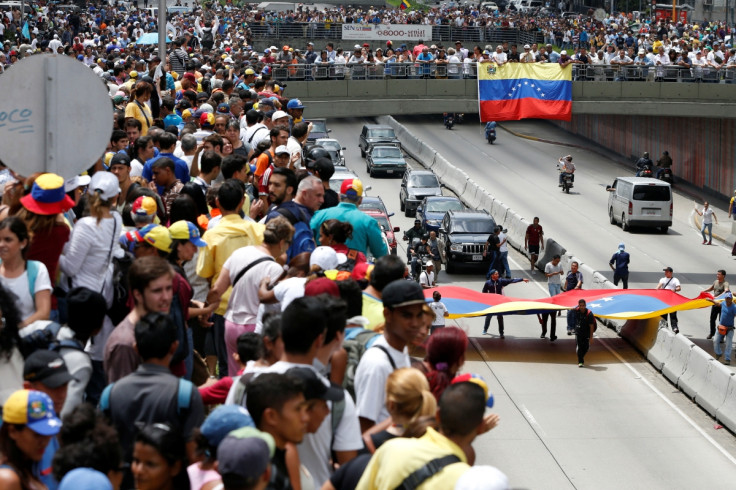 Venezuelan National Guard soldiers and police fired tear gas at thousands of protesters who gathered in Caracas to join in the opposition rallies against President Nicolas Maduro's socialist rule. The security forces cordoned off the square where the demonstrators planned to meet, forcing them to stage protests in scattered groups in nearby streets.
On the third day of protests on Wednesday (18 May), the protesters kept demanding a recall referendum to end Maduro's reign. Authorities reportedly condemned the demonstrations, alleging that the protesters had burnt two National Guards alive and also attacked a school dorm, Reuters reported.
Witnesses told the news agency that security forces arrested a few demonstrators and one young man was carried off by them in an unconscious state. The demonstrators kept shouting "the government will fall" as they flocked the streets of the town with flags and placards.
State authorities reportedly closed subway stations in Caracas to impede the demonstrators on Wednesday. Forces blocked marchers from reaching the local election board office in Tachira state, which was a witness to the most violent scenes during the 2014 protests that resulted in 43 deaths. In the Caribbean coastal town of Coro, protesters reportedly formed a chain in the streets to indicate their solidarity to the opposition rallies.
Opposition parties reportedly said Venezuela has become a "time bomb", which would explode if democratic means of Maduro's removal is blocked. They too want a recall referendum against Maduro in 2016 to push for a presidential election. However, the ruling Socialist Party has ruled out any such possibility, saying there is no time to hold elections in 2016 and the election board is busy with paperworks. "You don't like Maduro? Well, deal with it," Vice President Aristobulo Isturiz, who has repeatedly ruled out a recall referendum in 2016, was quoted as saying in reaction of the ongoing protests.
Meanwhile, Maduro recently announced a 60-day state of emergency to strengthen his hold over the administration.