One person was killed and 11 injured when a car ploughed into a crowd of people on Venice Beach, California, on Saturday.
CCTV captured the carnage when the powerful black motor careered into victims enjoying themselves at the popular beach, in the suburbs of Los Angeles, United States.
Footage shows the driver of the car minutes before the incident standing and observing people on the pavement. He then climbed into the vehicle and rammed them.
Witnesses described victims soaked with blood and screaming in the aftermath of the crash, at 5pm local time. The vehicle, a Dodge Avenger, was later dumped as the driver fled on foot.
As well as one fatality, one person was left in a critical condition, while two people were described as in a serious condition.
Eyewitness Katherine Blackburn told KCL: "It was horrible. I mean it was like something out of a movie, something you would never expect to see.
"There were people flying, laying on the ground, tents flying everywhere. If he wanted to kill people, he came at a perfect time, 5pm on a Saturday in the summer in Venice Beach."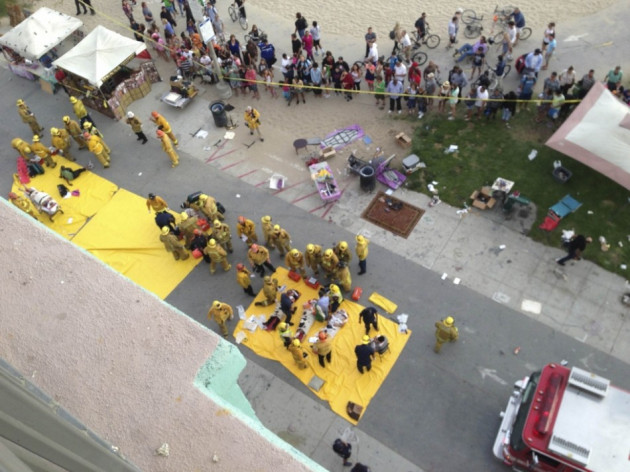 Louisa Hodge, 35, also saw what happened. She said: "There was people kind of stumbling around, blood dripping down their legs looking confused not knowing what had happened, people screaming.
"It was blocks and blocks of people just strewn across the sidewalk."
Emergency crews carried away victims on stretchers amid bloody scenes at the sun-kissed spot, which was packed with people.
Police said a man turned himself in an hour later at a police station in Santa Monica.
LAPD spokesman Daniel Chun said: "There was a hit-and-run and the vehicle is in custody. The driver fled on foot. There is a possible suspect who has been detained. We have a vehicle in custody with collision damage consistent with what happened out here."