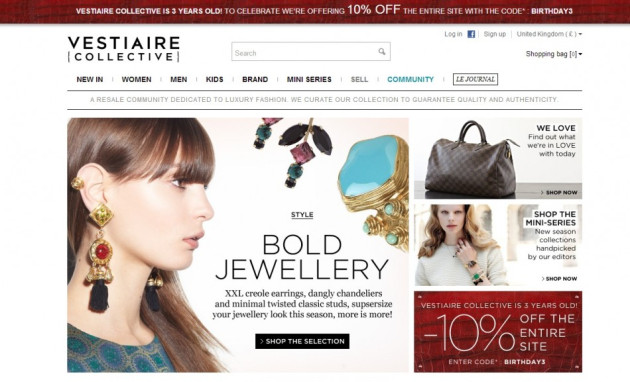 Vestiaire Collective, the pre-owned luxury fashion site from France, has announced blockbuster sales just six months after it launched in the UK.
The online marketplace dedicated to women's, men's and children's fashion has gone from strength to strength since it was launched in Paris in 2009.
Following its UK debut in March, the company has seen its UK customer base quadruple. The site now boasts more than 1.2 million members.
The company says that UK consumers are pending an average of £300 per visit since English and sterling were added to the site.
"We are seeing a wave of interest and excitement about the contents of French wardrobes from our British community," says Vestiaire Collective's UK MD Shannon Edwards.
"On average, British women are spending 30 percent more than their French counterparts and while we are shopping, the French are selling.
The company credits its overnight success to British label hunters who want authentic yet affordable pre-owned designer labels from the finest French wardrobes.
It claims that, unlike eBay, it can offer its customers luxury items without the nagging doubts of authenticity or misleading shopping.
"We have seen more than 400 brands added to the site which are being snapped up here by women who are used to buying vintage and love that classic French style," Edwards says.
An Yves Saint Laurent bag for £1,000, a Shamballa jewels item for £1,500 and a men's IWC watch for £1,100v are just a few of the items brought from the site by UK shoppers in the past six months.