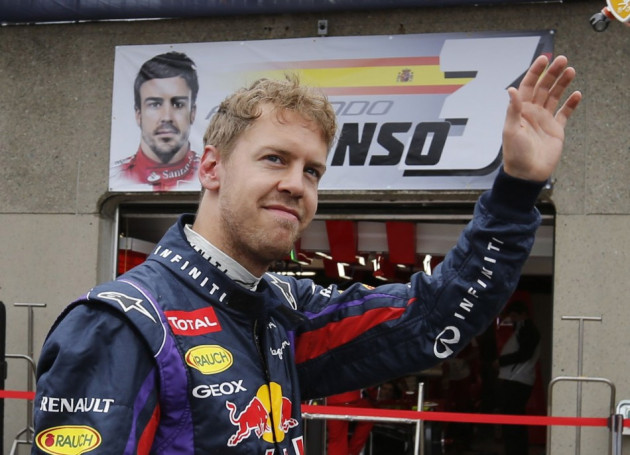 Triple world champion Sebastian Vettel has quashed speculation regarding a possible move to Ferrari by penning a new contract at Red Bull until the end of 2015.
Vettel was claimed to have agreed a deal to join Ferrari for the start of the 2014 season despite Red Bull boss Christian Horner and Italian team president Luca di Montezemolo denying a deal was in place.
And Vettel has firmly quashed rumours regarding a move away from Red Bull by penning a one-year extension to his contract, which takes the German through until the end of the 2015 campaign.
Vettel has achieved 29 race wins, 51 podiums and 39 pole positions across his four year career at Red Bull, winning the world championship in the each of the past three seasons.
However, the 25 year old, the current leader in the 2013 drivers' championship after race wins at Malaysia, Bahrain and Canada leaving him 36 points clear of Ferrari's Fernando Alonso, claimed last week he may quit the sport within five years should he no longer possess the urge to race.
Aside from his three world championship wins, Vettel's Red Bull career has been dominated by his relationship with team-mate Mark Webber, the most recent incident of which saw the former defy team-order to overtake the Australian and win in Malaysia.
The catalogue of episodes between the pair has swelled suggestions that Vettel may be tempted to join Ferrari in the near future, but president Di Montezemolo had claimed the team would be unable to accommodate the current world champion alongside chief driver Alonso.
Vettel's commitment to Red Bull raises questions over the future of Webber, whose contract expires at the end of the 2013 campaign, and regarding who will replace the 36 year old for the new season, with Lotus' Kimi Raikkonen among the possible contenders.