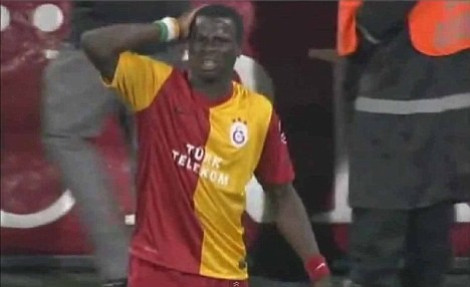 Ugly scenes marred Galatasary's tempestuous derby with Besiktas at the weekend, as former Arsenal midfielder Emmanuel Eboue came under sustained attack from fans throwing missiles onto the pitch.
Eboue, who moved to Galatasary in the summer, was repeatedly hit with a number of items from supporters during the 0-0 draw at the İnönü Stadium in Istanbul.
The former Arsenal star was pelted with water bottles, lighters and other improvised projectiles as he attempted to take a throw-in.
Although there is nothing to suggest the attacks were racially fuelled, the ugly scenes will have done little to revive the reputation of Turkish football which has been the subject of increased scrutiny in recent years.
Eboue, who left Arsenal in the summer, has experienced a mixed reception in Turkey, where he has featured in nine games without troubling the scorers.
The Ivory Coast international, who spent six years at Arsenal, has been repeatedly accused of diving during his time with Galatasary - something many believe caused the attack.