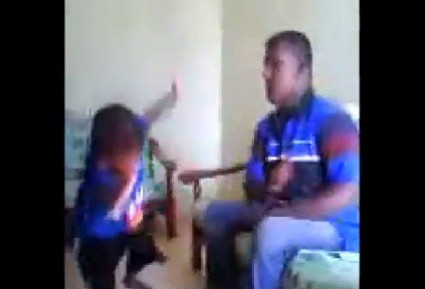 A video of a Malaysian man physically abusing a toddler has sparked global outrage after it was posted on Facebook.
The nine-minute clip, which shows the unidentified man slapping, punching and kicking the young boy countless times, has infuriated viewers.
In it the man, who is in his 30s, can be seen becoming increasingly aggressive as he attempts to discipline the boy as well as another child.
At one point the boy, who has been instructed to sit on the floor, attempts to reach out to the man, who is said by police to be his stepfather. The man responds by hitting him repeatedly while a woman films the abuse.
The video, first posted by Facebook user Vasu Amaithi Padai, has gone viral and stirred a huge response from the online community.
One outraged viewer wrote: "You've got to be sick in the head to beat a child like that and film it".
Another said: "I believe in physically disciplining your kids, but this isn't discipline. I'm not even going to say what would happen to the man that did this to my child, because most of you share my feelings".
According to Sulawesi press, police have now arrested a mechanic from the city of Klang in connection with the child abuse case after a string of complaints were made earlier this week.
"The man involved was stepfather to the children, were detained and investigated under Sec. 31 (1) (a) of the Child Act 2001. If convicted, the offender to a fine not exceeding twenty thousand ringgit or to imprisonment for a term not exceeding ten years or to both," the Royal Malaysian Police (PDRM) said on its official Facebook page.
"Those poor children are being treated at Klang Hospital under the supervision of the Social Welfare Department."
The man faces a maximum sentence of 10 years and a fine of up to RM20,000.