Video of Hurricane Irma 'deaf interpreter' signing nonsense about pizza and bears goes viral
County leaders criticised for failing to organise certified sign language interpreter.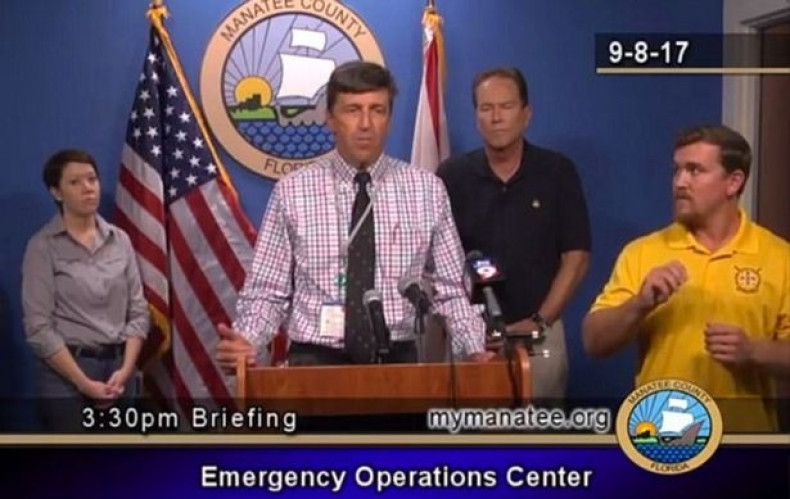 Emergency officials in Florida have come under fire after a lifeguard they used as an interpreter for the deaf signed gibberish about pizza, monsters and a bear during a safety briefing on Hurricane Irma.
Manatee County leaders said they were "in a pinch" as the storm approached the Tampa Bay area on 8 September, and that they desperately needed someone to interpret an emergency public broadcast.
After failing to get an expert to communicate the evacuation and safety advice, they instead asked county employee Marshall Greene, who works as a lifeguard for the marine rescue unit and who has a deaf brother.
The decision proved to be a terrible mistake.
Members of the deaf community say Greene mostly signed gibberish, including references to "pizza" and "monsters". He also signed the phrase, "help you at that time to use bear big," during the broadcast.
Other sentences signed were incomplete or incomprehensible, deaf people said. A video of the performance, complete with subtitles, has since gone viral online.
The former president of the National Association of the Deaf, Chris Wagner, who has previously worked in Manatee County, said the debacle was an insult to the deaf community.
"Everybody was talking about it on social media, everyone was shocked, asking leaders in the deaf community to do something about it," he told local news channel WFLA. "It was obvious to me he wasn't a professional interpreter. I was totally shocked."
Wagner said Greene also fell foul of basic good practice for interpreters by wearing a bright yellow shirt, thereby making his hands less visible to deaf viewers. He also repeatedly turned his head towards the podium rather than keep eye contact with the camera.
Greene's father defended his son, saying he only agreed to help out because his bosses had nobody else available.
"He can't expect to communicate something he doesn't know," his father said.
County leaders have faced the brunt of the criticism for failing to organise an interpreter despite days of weather warnings.
The county often uses the company VisCom to provide interpreters, but owner Charlene McCarthy claimed she was never called. She said she was horrified when she saw the broadcast.
"I knew something went horribly wrong," she said. "It was horribly unnerving for me. To watch that, knowing I could provide a qualified, certified interpreter."
County officials say they have learned from the mistake.
Members of the local deaf community have demanded an apology from Manatee County, saying the error was dangerous and put lives at risk.