Passengers on two Air Transat flights were left trapped on the tarmac for hours prompting at least two people to call 911.
Air Transat Flight 157 from Brussels to Montreal was diverted to the Canadian capital due to thunderstorms and landed in Ottawa shortly after 5pm ET (10pm BST) on Monday (31 July) after eight hours in the air.
But the plane waited on the tarmac for six hours and passengers were not allowed to disembark.
"The plane actually lost power and went zero AC [air conditioning], and then now we've got the doors open and one kid is puking, and people are just losing their minds," passenger Laura Mah told CBC News.
"They're just getting mad, saying, 'This is not all right, this is not OK, you can't do this to us.' The police are in here and the fire department's in here and they're telling us that they can't do anything, that we just have to stay put."
Passengers were apparently given little information, first being told the plane needed to be refuelled and, then later, that the fuel truck had run out of fuel.
Paramedics arrived after a passenger called 911 and Ottawa International Airport Authority handed out water to the stranded passengers.
"I'm super p****d," Mah said. "I'm just really hot, I'm sweating, and I haven't eaten...I'm hungry and they only rationed the food to give little snacks to kids, which is good."
CBC News said the flight left Ottawa around 11pm ET (4am BST) and landed in Montreal at 11.30pm ET (4.30am BST), eight hours and 15 minutes late.
Another Air Transat Flight 507 from Rome to Montreal was also diverted to Ottawa due to the weather and landed around 6pm ET (11pm BST).
Josée Binet from Gatineau, Quebec told Radio-Canada that the situation became so unbearable, she called 911. The second plane sat on the tarmac for four hours before finally taking off and it arrived at its destination five hours and 20 minutes late.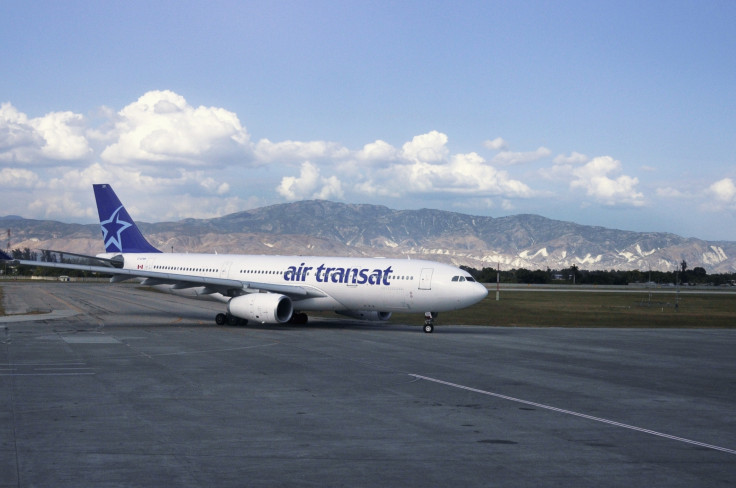 Ottawa International Airport Authority spokesperson Krista Kealey said among reasons for the Brussels flight delay were the Canada Border Services Agency needing to approve the opening of the cargo hold to check on an animal, mechanical issues and that it needed to be refuelled.
"We did have buses on standby in case they decided to disembark their passengers and process them through customs," Kealey said.
"However, that decision was not taken by the airline, and ultimately it is the airline that is responsible for making those decisions about whether a flight disembarks—and, in the case of an international flight, processes through Canada customs—or whether it sits and waits it out in the hopes that it can get to its final destination."
Meanwhile, Air Transat claimed that an increase in traffic at the airport meant that airport staff were not able to provide bridges or stairways to allow passengers to disembark. The airport authority disputed that claim in a statement Tuesday (1 August).
"We are sincerely sorry for the inconvenience that this situation, which was beyond our control, may have caused our passengers," Air Transat said.