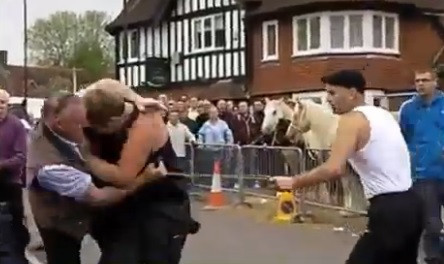 A video has emerged of two families in a mass brawl at a horse fair in a Hampshire town.
Members of the families, believed to be Travellers, pleaded guilty to being involved in the fight which occurred at the annual Wickham fair in May 2013.
Footage shows some of those involved using catapults and batons as horrified onlookers stood by.
The video, captured by the RSPCA, which was looking for potential examples of animal cruelty at the fair, was shown as evidence at Portsmouth Crown Court.
The fight continued even after police arrived.
Six defendants, Esta Keet, 52, Ricky Keet, 24, James Kempster Sr, 40, James Albert Kempster, 27, Horace Kempster, 20, and Albert Kempster, 19, pleaded guilty to various charges including assault and possession of an offensive weapon.
The footage shows another member of the Keet family, David, standing in the street with a child when one of the Kempster family charges ones towards him while aiming a catapult at him.
The man with the catapult is then knocked down in the street before James Kempster approaches David Keet with a whip.
Matthew Lawson, prosecuting at Portsmouth Crown Court, said: "Esta [Keet] then extends an asp (baton), and uses it to hit down on James Kempster who is assaulting her husband David."
Rickey Keet is seen firing a catapult at the face of Horace Kempster, who returns and kicks him in the head while he is lying on the floor.
Esta Keet pleaded guilty to possessing an offensive weapon, while Ricky Keet admitted one count of assault occasioning actually bodily harm.
Albert Kempster admitted assault while Horace Kempster admitted affray.
James Kempster admitted possessing an offensive weapon. His father pleaded guilty to ABH.
All six will be sentenced at Portsmouth Crown Court in May.
David Keet, 28 admitted one count of assault during an earlier hearing and was given a 12-month conditional discharge.