Vietnam and Napalm Girl - Then and Now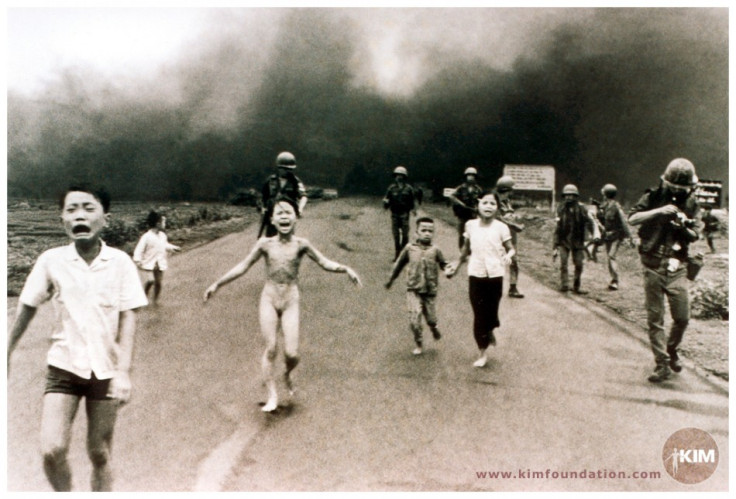 Friday, 08 June 2012, marked the 40th anniversary of an event captured by Associated Press (AP) photographer, Huynh Cong "Nick" Ut in his native Vietnam. Seen running from the village of Trang Bang, some 25 miles west of Saigon, and towards the camera, a small group of crying and screaming children accompanied by South Vietnamese soldiers of the ARVN (Army of the Republic of Vietnam).
Prominent in the centre-left of the photo is a little nine-year-old girl, Phan Thi Kim Phúc. As she runs down Hwy 1, Kim Phúc is still badly blistering and dripping burnt skin caused by blobs of napalm jelly which have burned through her clothing. The little girl in her agony has torn off her burning cotton garments. All the time the napalm continues to stick to her flesh and her left arm and the left-half of her back are seriously affected. The child screams: "Too hot, too hot." as she tries to beat off the searing jelly with her right hand, thus inflicting fresh scorching there too.
Like everyone who saw the photograph published worldwide in the days following, I was struck by the horror and agony of the scene and it is not one I have ever forgotten. I can't remember reading Kim Phúc's name at the time and definitely not Nick Ut's but just the mention of "Napalm Girl" would bring the image instantly to mind. The photograph would win the then 21 year-old Nick Ut the Pulitzer Prize and by the War's end he would be wounded "in action" three times. His older brother, Thanh My who also worked for AP would be killed in the War. (It is polite in Vietnamese society to address a person by their given name, the surname coming first).
Winning a Pulitzer was the last thing on Nick Ut's mind after seeing the girl's still burning flesh. Now a United States citizen living in Los Angeles, he recently re-lived those moments and told AP:
"I cried when I saw her running (and thought)...If I don't help her - if something happened and she died - I think I'd kill myself after that."
He, with other newsmen present including ITN correspondent Christopher Wain, took Kim Phúc and the other injured children to the British-run Saigon First Children's Hospital. Hospital staff on seeing her wounds told Nick Ut she would not live and only when he persisted and produced his American Press pass did they agree to treat her. Some days later and still little improved they managed to get her transferred to more specialist care at the American-run Barsky Hospital in Saigon. The treatment required several, major surgical operations over a two-year hospital stay, her care being paid for by a private Foundation.
Nick Ut's photo would very soon become one of the most iconic images of the 20th century, if not of all time, to depict the horror of war, a point not missed by the North Vietnamese/Communists. Never shy of using people as human shields - the South Vietnam Air Force pilot thought he was bombing a Communist ground attack - the photo could not but hearten the anti-war sentiment, not least in the United States.
How could a pilot make such an error!? In defence of the Forces of South Vietnam generally, their training under the American programme of Vietnamization was often rushed and/or insufficient to the task. Put into effect from mid-1969 to replace American forces with ARVN personnel, the first barrier to be overcome for many was learning English (French still being the second-language of the better educated), at least for Officers and Snr NCOs. One American General reckoned that at least three years would be needed to get a pilot ready for combat operations.
Added to this was the rate of withdrawal, completed in 1973, being taken more often on political considerations in the US and to match its new policy of detente with China and Russia, than was warranted by the military conditions in the field - at times with very short notice to the ARVN. It could be considered surprising that the Republic of Vietnam lasted until the end of April 1975!
The Communist Government in Hanoi made Kim Phúc a "model citizen" removing her from university where she was studying medicine and sending her back to Trang Bang to become a propaganda "symbol of war". In 1986 however, she was permitted to continue with her studies once again in Cuba at the University of Havana. There she would meet fellow-Vietnamese student and her future husband, Bui Huy Toan.
Flying back from their honeymoon in Moscow in 1992, the pair left the plane whilst it was refuelling in Gander and asked for and were granted political asylum in Canada where they were able to settle with the help of the Quakers. Kim Phúc became a Christian in 1982
After being invited to attend Veterans Day ceremonies at the Vietnam Memorial in Washington DC in 1996, Kim Phúc met Mr Ron Gibbs, a Memorial Fund Director and through his encouragement and help she founded the Kim Foundation International based in Chicago in 1997 and a sister foundation in Canada in 2000. Both Foundations are non-profit, private charities specializing in providing free medical assistance, in the broadest sense, to children injured, disabled or traumatized by war or its effects.
In 1997, Kim Phúc was made a UNESCO Goodwill Ambassador for the Culture of Peace at a Nomination Ceremony in Paris. In receipt of many other honours, she continues her work and lives with her family near Toronto, Canada, is close to "Uncle" Nick Ut and has even met her other saviour, ITN's Christopher Wain.
As for Vietnam, after the whole country came under Communist control in 1975 there was virtually no growth for over 10 years due to a policy of isolation combined with persecution of former opponents and the Chinese (Hoa) minority who controlled much of the former South Vietnam's commerce and industry. Over a million fled the country, often referred to as the Vietnamese "Boat People" even though some 350,000 of these walked across the Chinese border.
A change of policy occurred after 1986 with the introduction of Hanoi's "Doi Moi" (renovation) policy. The aim was to liberalize the economy along with major structural changes and the encouragement of best practice. Export sectors were promoted and foreign investment and partnerships actively sought. Vietnam, a country of much outstanding beauty also opened its gates to tourism and welcomes over four million overseas visitors annually, a figure which is fast expanding.
Although 40 per cent of enterprises are still State-owned, this figure should decrease as reforms continue. It's a big market of 92 million people and growth in 2011 was six per cent, lower than the previous 20 years or so which recorded annual growth figures of 7-8 per cent but good under the global circumstances.
The country's biggest export markets are the USA and China and the biggest Import partners are China and South Korea which can only be testimony to much improved relations.
Despite the Socialist Republic of Vietnam being still politically a one-party Communist state, it's just not like the good/bad old days. The Saigon Times on 22 May 2012 featured an article in its Financial Section by Do Thien Anh Tuan criticising recent restructuring legislation of the country's banks.
Anh Tuan noted that whilst in 2000, State-run banks accounted for 78 per cent of Vietnam's deposits and lending, by 2010 the State banks' share had fallen to 45 per cent of deposits and 51 per cent of loans. Yet legislation was (deliberately) skewed in favour of State-run firms and failed to address the reality of the situation. This is evidenced by State-run banks giving 30-40 per cent of loans available to nationalised enterprises in comparison to commercial banks' 5-10 per cent
Anh Tuan concludes:
"This outcome amounts to inequality in capital distribution and makes it likely for the public sector to be even more bloated..."
And in the same journal the Fashion Section announced on 07 June that Danang (City) was to host the final round of Miss Vietnam "with a 300 million Dong first prize" - roughly $15,000.
Revolutionary indeed!
© Copyright IBTimes 2023. All rights reserved.