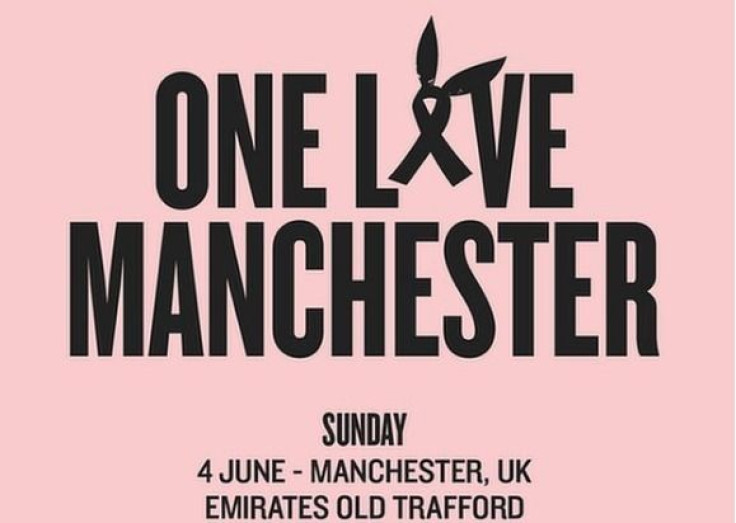 Tickets to the One Love Manchester tribute concert have appeared on eBay and Gumtree costing over six times their face value just minutes after selling out.
Sold through official channels at £40 each, the tickets soon found their way to eBay for up to £200 each, or in groups of two for £400 and four for £500. A seller on Gumtree was offering two tickets for £250.
Fans took to Twitter to express their outrage and disgust at ticket touts seemingly looking to earn a quick profit on the tickets.
"Disgusting that there's One Love Manchester tickets being sold for over £400 on eBay, totally defeating the purpose," one person tweeted. "You're actually disgusting if you've bought tickets for One Love Manchester and put them on eBay, you are vile," said another.
eBay was quick to remove the tickets from its site, and so too was Gumtree, which took down one listing within minutes of it being spotted by IBTimes UK.
The concert, which takes place at the Old Trafford cricket ground on 4 June at 7:15pm, is being held in the wake of the terrorist attack which killed 22 people at an Ariana Grande concert at Manchester Arena on 22 May. Proceeds of One Love will go to the We Love Manchester fund, set up by the Red Cross to support those affected by the attack.
To be broadcast live on BBC1 from 18:00 to 21:00, the tribute concert will include performances from Miley Cyrus, Take That, Coldplay, Justin Bieber, Katy Perry, Pharrell Williams and former One Direction member Niall Horan, as well as Grande.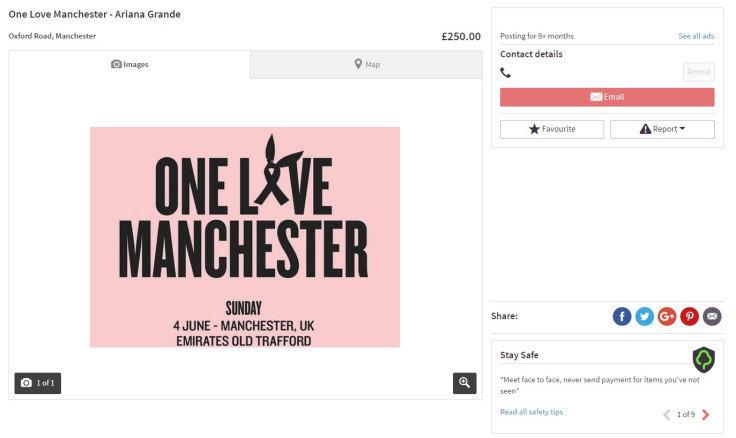 An eBay spokesperson told IBTimes UK: "We don't allow the sale of any type of ticket on eBay so these will be removed automatically. All tickets for this event will most certainly be removed by the team who are doing manual sweeps to pick up any that slip through.
"We also aren't allowing the sale of ANY item which profits in any way from the tragedy in Manchester. All of these items are being removed if they appear.
"Customers can give at checkout to the Manchester fund via the Red Cross."