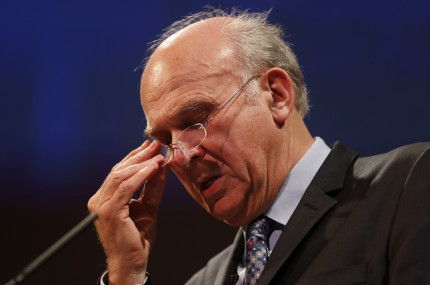 Selling off Royal Mail was undoubtedly the single biggest achievement of Vince Cable's career as business secretary. And it is set to dog him for the rest of his time in government and beyond.
The Liberal Democrat minister and potential leadership contender, formerly known as Saint Vince for his economic prescience, set out to achieve what other governments of all shades had considered, and abandoned, going back more than 20 years.
Neither Margaret Thatcher or Tony Blair could pull it off, but Cable will go down in history as the man who did it. So far, however, it does not look like history will be kind.
And Cable suffered yet another collision with the reality of the privatisation when he faced the Commons business committee of MPs who, almost to a man and woman, were deeply critical, even hostile to the way the sell off had proceeded.
He, his Tory minister Michael Fallon, and their senior advisers were subjected to a long, confrontational session that saw them repeatedly accused of selling the institution off cheap to short-term city speculators with scant regard for the cost to taxpayers.
Yet both ministers gave a robust defence of their actions accusing their detractors of indulging in hindsight and misinterpretation of the facts and specifically overlooking the threat of industrial action which had a major effect on would-be investors' attitude to the purchase.
Cable insisted there would be "absolutely no apology" because, given the facts and circumstances at the time, "the correct decisions were made".
Fallon was characteristically blunt, barely concealing his anger at some of the lines of questioning, at one point telling committee chair, Labour's Adrian Bailey, he had seen no evidence the shares had been undervalued and demanding: "have you?"
He added he was surprised the committee had not called in the unions to give evidence about their role in the whole affair.
For his part, Bailey accused Fallon of living in an "Alice in Wonderland" reality and taking the advice of those buying and selling the shares, rather than independent research.
And it was the advisers who faced some of the most direct criticism, with Tory Brian Binley accusing them of letting down ministers by offering them bad advice sparked through fear.
"You were motivated by a fear of failure. I understand that, I am happy with that viewpoint. But the public needs to know that, because the taxpayer lost between £1bn and £1.2 bn.
"You were wrong. Are you going to admit that, so taxpayers can have satisfaction that advisers have learned a lesson?" he asked.
And, when adviser William Rucker, Chief Executive of Lazard, said he did not believe they had been wrong on the share price, Binley added: "I am saddened by that. I want you to learn something from this, why are you being so obstinate saying you got it right when you patently got it wrong."
Labour's William Bain took up the attack, asking for a ministerial apology and saying the public would be "flabbergasted" at the advice as it was clear the long term interests of the taxpayer were not being put first, an allegation rejected by Cable.
And Labour's Katy Clark asked whether it was not the case that some investors favoured by the ministers had sold shares quickly "to make a quick buck".
Cable said he did not like the pejorative language but added: "yes, that is what happened. It is how markets work."
It left the question hanging, and it remained hanging over the business secretary's head after the bruising session: in exactly whose interests do the markets work?