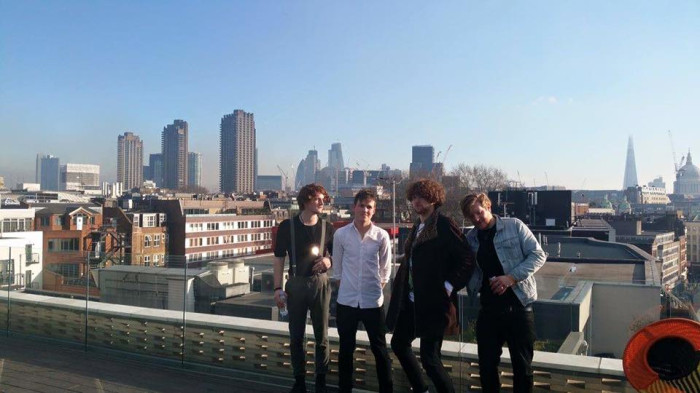 A single released by indie band Viola Beach has entered the pop music charts after all four members of the band and their manager perished in a freak bridge plunge in Sweden. Friends, family and fans have expressed their shock at the tragedy and the father of manager Craig Tarry pleaded with music lovers to help get the band to number one.
The song, "Swings & Waterslides," entered the Official Top 40 at number 39 and is expected to rise on 19 February when the full chart is announced. The song is also at number three in the iTunes best seller list. All proceeds from sales will be donated to the families of the four friends, record label Communion announced.
The crash happened at around 2.00am GMT on 13 February, when a middle section of a bridge was being raised to allow a tall ship through. Investigators in Stockholm are still puzzled as to why the car apparently smashed through safety barriers, plunging 25 metres (80 feet) into the icy canal. Some eye-witnesses said the rented Nissan Qashqai accelerated despite the presence of flashing warning lights and blood samples will be taken from the driver to determine whether any alcohol or drugs had been consumed.
Lorry driver Jonny Alexandersson told Aftonbladet the car was going far too fast. "Suddenly there's a car that pushes past and drives like a maniac. It drives down the left side in towards the barrier. It was driving at least 70-80km/h (45-50mph). That's very fast when the rest of us are standing still. He clipped the rear-view mirror on a taxi."
The Warrington-based band – which included singer Kris Leonard, 20, guitarist River Reeves, 19, bassist Tomas Lowe, 27, drummer Jack Dakin, 19 and manager Craig Tarry, 33 – were on their way to a hotel before flying home to the UK. Tarry's dad, Colin said: "It's just a tragic loss. I just don't want them to die in vain. Go out there and buy their records. Let's get them to number one. A fantastic band."