The debut album from British band Viola Beach has been posthumously released. The nine-track LP, made up of songs recorded by late members Kris Leonard, River Reeves, Jack Dakin and Tomas Lowe, is intended to be a celebration of the band's short career.
Along with their manager Craig Tarry, Leonard, Reeves, Dakin and Lowe died on 13 February 2016 when their hired Nissan Qashqai plunged into a canal in Sodertalje, Stockholm. The eponymously-titled album, released under the group's label Fuller Beans Records, features the singles Swings & Waterslides and Boys That Sing.
In a statement, the families of the four-piece said: "We are tremendously proud of everything the boys achieved in such a short space of time. Craig, Jack, Kris, River and Tom shared a huge passion, talent and dedication to music. We believe the best way to celebrate our sons' lives is to release an album of their songs."
It continued: "This is their legacy and we know deep in our hearts that the boys would want the world to listen to the music they poured everything into. This was only the beginning for them and these nine songs were written with every intention to be shared, heard and most of all, enjoyed. We hope that it brings you as much happiness listening to it as we know it did to them making it."
Noting the sheer talent of the band, one fan tweeted after listening to the album: "The @Viola_Beach album tracks [...] just goes on to prove how much potential they had. They will be missed," while another commented: "That album by viola beach is absolutely amazing, such a shame." Another fan chimed in: "viola beach's new album is sooo good, they had so much talent, such a shame they were gone too quick! rip boys."
Reflecting on the message of the album, River's brother Fin Reeves told BBC Breakfast: "That's the feeling they were trying to get across and that's what they were doing. We have done everything we can to get their creativity and their ideas into [the album]. We have done our best to have it how they would have wanted.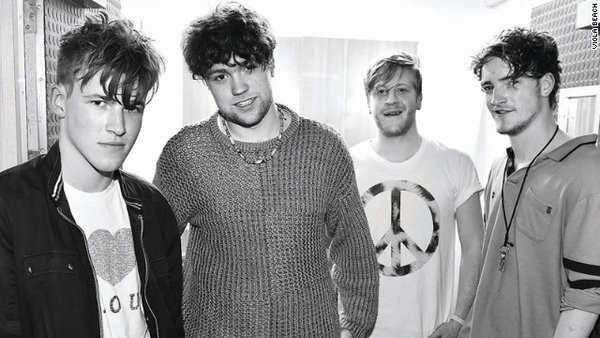 "I think they'd be thrilled – I think they are out there somewhere jumping up and down and just going, 'Yeah, go on guys, get people to listen to our music'. The whole thing about Viola Beach ... they were just having the time of their lives. River was all about enjoying himself and living life to the full, and when he got into Viola Beach and met those lads, that was him at his best."
On the night of the accident, the vehicle transporting the band, who were aged between 19 and 32 at the time of their death, was seen driving off the edge of a bridge that had opened to allow a boat to pass. In March, an inquest into their deaths was open and adjourned.
The Viola Beach album is available to buy on iTunes and stream on Spotify.
Watch Viola Beach's official animated Boys That Sing music video:
UK and US based family and entertainment production company, Komixx Entertainment, together with their partner company Mackinnon & Saunders Digital Studios, produced the official music video of Viola Beach's new self-titled album.