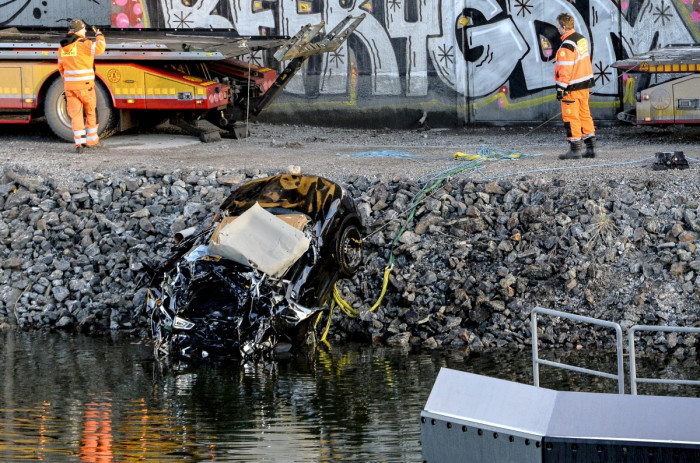 A Swedish police officer investigating the crash in which all four members of indie band Viola Beach died on 13 February (2016) along with their manager has been forced to clarify remarks he made appearing to suggest the driver acted deliberately. The group were driving to an airport hotel following their first gig abroad when their rented car - reportedly driven by manager Craig Tarry - smashed through two barriers and into a bridge which was being raised to let an oil tanker through before plunging into a canal. killing them instantly.
The car in which the band were travelling - a black Nissan QashQai - didn't appear to have had any faults and the driver - not named by police - had no traces of alcohol or drugs in his system. After reviewing CCTV footage of the incident investigating officer Lars Berglund told local newspaper Aftonbladet: "We can't find any secondary explanation. It looked like the driver acted deliberately."
However Berglund later clarified his comments, saying: "My theory is that [the driver] was inattentive for some reason, perhaps talking on a mobile phone or turning round to the others in the car, and he didn't see the barrier in time." Asked why the driver continued at high speed after smashing through the first barrier, he added: "This is again speculation, but he might have been knocked out with his foot on the accelerator and just gone on into the second barrier, which caused less damage as the car struck the middle of it, causing less of an impact."
However the fact the driver was fully conscious has added to the mystery, and police have had to stress they don't have any indications the crash was deliberate. A driver who was overtaken by the band's car at the first barrier said the car drove past like a maniac, adding: "All I heard then inside the car was a muffled bang. It was hard to understand what had happened, it was all so surreal."
Another witness, Kent Udden said: "We didn't see any brake lights. When he passed the first barrier, it would have been obvious that this is something you shouldn't pass. We saw no signs that he was slowing down."
Warrington-based Viola Beach - comprising Kris Leonard, River Reeves, Tomas Lowe and Jack Dakin - had been tipped to become hugely successful. The band's single "Swings and Waterslides" reached number 11 in the charts the week after the tragedy.