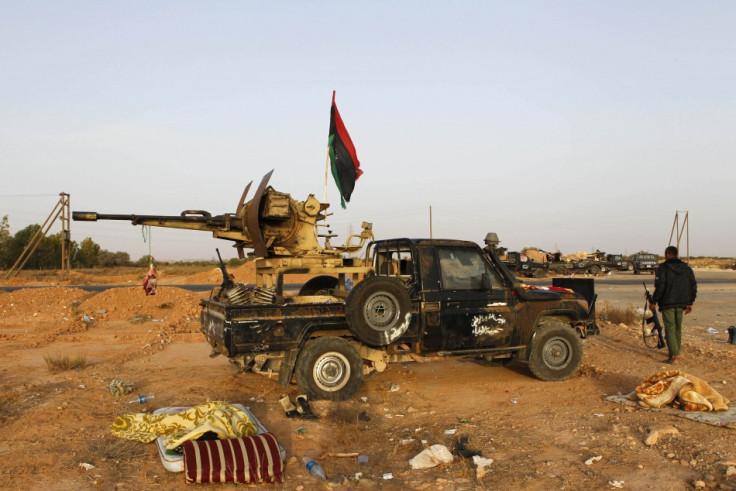 Despite calling for a halt to hostilities and extending the deadline before their planned assault on Bani Walid following stalled negotiations with the tribal leaders, Gaddafi loyalists fired on advancing a chief interim council negotiator said.
National Transitional Council (NTC) forces still insist they have located Muammar Gaddafi, and surrounded his position within a radius of 60 kilometres (37 miles) but have so far refused to divulge the fugitive leader's location.
The NTC forces were on a reconnaissance mission when they came under fire in Wadi Dinar, about 15 kilometres (9 miles) outside Bani Walid, said Abdallah Kenshil, a National Transitional Council member.
One opposition fighter was injured in the abdomen and a Gaddafi loyalist was killed by the rebels as a result of the confrontation Kenshil said.
According to Kenshil two of Gaddafi's sons were spotted in the area by residents and rebels now insist Gaddafi is also there, attempting to prevent the peace negotiations from being conclusive and inciting his supporters to take up arms against the NTC forces.
"We know that Saif al-Islam Gaddafi and Mutassim Gadhafi are inside Bani Walid," Kenshil told CNN.
"Eyewitnesses we know by name inside Bani Walid told us they saw them,"
"Moammar Gaddafi himself incited violence against our peaceful message in a message broadcast on Al-Rai-T," Kenshil added.
If by Saturday Gaddafi loyalists refuse to lay down their arms and agree to a cessation of hostilities, the NTC has warned its forces would launch an offensive.
While claims that Gaddafi and his sons in Gaddafi cannot be independently verified, Thursday, the colonel issued an audio message which was broadcasted on al-Rai TV, in which he claimed he still is in Libya.
"They claimed I left to Niger so they can weaken you and destroy your morale," the man claiming to be Gadhafi said, adding such reports were "lies."