A Chinese research centre is under fire after a video has gone viral showing the facility's staff torturing two giant panda babies.
The video shows the staff members of the Chengdu Research Base of Giant Panda Breeding situated in Chengdu province pushing, dragging and throwing "Rourou" and "Manman" – two pandas that are popular at the facility.
The alleged mistreatment of the animals has angered a lot of people in China, where the giant panda is regarded as a symbol of the country and is a highly-protected species.
But panda keeper Guo Jingpeng defended himself saying he behaved the way he did because the cubs were being violent, state news agency Xinhua reported.
He said that on 12 July, he was feeding milk to the panda cubs, just as he does everyday, when one of them suddenly became aggressive. "It bit my hand really hard, its teeth cut into the flesh and my hand started bleeding," Guo said.
"When it tried to bite me again, I pushed it away out of instinct."
Guo also said that he has been targeted through the video. "The over 50-minute video was intentionally edited into less than two minutes of footage," he said.
Another panda keeper, Xie Huhai, also came out in support of Guo and said that pandas sometimes bite while having fun, but "panda fun" could cause injuries to the keepers.
"We often get hurt by the pandas. Scratches and bites are daily occurrences," he added.
However, the keeper's version did not stem the outrage on social media and several people called for Guo's resignation over his "manhandling" of the cubs.
"I don't care what he has to say, they were just babies," Loo Jiaying from capital Beijing wrote on the popular Sina Weibo micro-blogging site.
"It made me so angry to watch him throw a defenceless cub around. If he was so worried about his safety, why wasn't he wearing protective equipment like gloves?" Loo added.
"We have always thought that the Chengdu centre was set up to save our national animal. It did great work in the past and made many Chinese people happy with its panda baby pictures.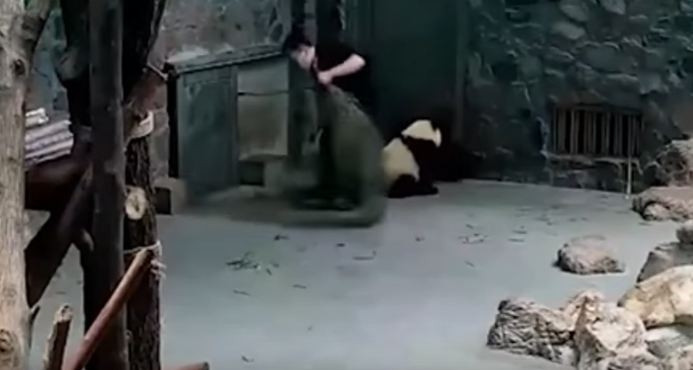 "This incident has definitely changed my opinion about its operations and objectives," another user said.
Responding to the outrage, authorities at the research centre said they have questioned the staff members involved and asked them to treat the pandas "gently".
"When we saw the video, we thought the staff members had overreacted, even though they meant no harm to the pandas," Wu Kongju, a panda expert at the base, said.
"But we hope people can show more understanding towards the panda keepers, because although giant pandas look cute, they are quite strong and can be violent."
At least a few people have agreed with Wu's explanation.
"Firstly, a panda is a bear, and they can be strong and violent. They just happen to have a baby face," one Weibo user Dengzheshouxindehanzi said.