A zoo in Japan has announced that one of its giant female pandas gave birth to a cub on Monday (12 June) – the first in five years. She had earlier given birth to a cub in 2012 but it was found dead days after it was born.
The rare pregnancy of Shin Shin, an 11-year-old panda, at Tokyo's Ueno Zoo was confirmed by authorities in May.
She delivered the cub at 11.52am local time, the zoo authorities were reported as saying by the local media.
Shin Shin began pacing her cage and showed other signs of agitation late on Saturday (10 June). It prompted the zoo authorities to keep a close watch on the animal, Reuters reported.
The sex of the cub is yet to be announced. The cub is estimated to weigh around 150 gms, and both mother and cub are reported to be in good health, according to Reuters.
The zoo authorities said Shin Shin was removed from public viewing last month soon after she began showing signs of pregnancy – like sleeping for long hours and urinating less, although she had a good appetite.
A urine test had also indicated the panda was pregnant, the zoo said.
"We are very happy," Yutaka Fukuda, deputy head of the zoo, said during a live news broadcast on Japan's NHK channel. "The cub is just born, so we would like to carefully watch over the progress of this tiny life."
Shin Shin and her partner Ri Ri were imported from China in February 2011, going on display not long after the devastating earthquake and tsunami that hit Japan. They are on a 10-year loan for $1m a year.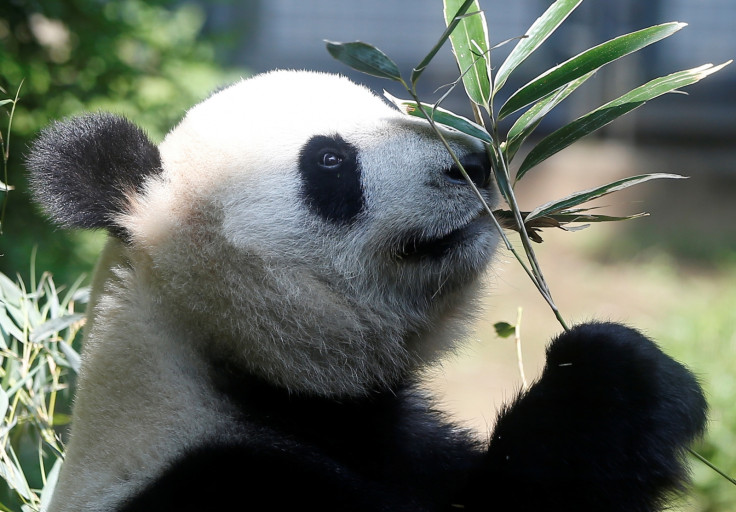 The couple mated three times in late February, the Japan Times reported zoo officials as saying.
"We are very happy about the birth of a panda cub, which we have been waiting for," Tokyo Govornor Yuriko Koike said in a statement. "I would like to offer my congratulations with everyone else."
Shin Shin and Ri Ri gave birth to a cub in 2012, which was the first panda born at the Ueno Zoo in 24 years. It was greeted with widespread excitement. However, it was shortlived after the cub died of pneumonia just six days after birth.
Panda births are extremely rare because of the great difficulties the animals have in conceiving. The new addition at the Ueno Zoo is said to be even more remarkable because it was born naturally. Zoos often have to artificially inseminate female pandas in order for them to reproduce.