The Smithsonian's National Zoo in Washington DC has released hilarious footage of one its star attractions, a giant baby panda, having fun while practising some climbing skills on Friday (7 July).
The adorable panda, named Bei Bei, was filmed at its enclosure by the zoo during one of its play sessions.
The video was shared by the zoo in its Facebook page and has gone viral with over 114,000 views and more than 2,200 shares at the time of publishing this article.
Giant pandas are extremely adept climbers and often ascend trees during play sessions, the zoo said in its post. But Bei Bei seems to be thrilled about falling from trees, finding more fun as it turned it into a game, while practising some climbing skills.
"BeiBei has been working on his dismounts out of the trees," the zoo said.
The male giant panda cub was born on 22 August, 2015, together with a twin who died four days after their birth. Bei Bei was given the name by the first ladies of the US and China, Michelle Obama and Peng Liyuan. His name means "precious", the same as his sister Bao Bao, who turns four next month.
Both of the siblings are a result of artificial insemination of their mother panda, Mei Xiang.
Bei Bei is part of US-China panda diplomacy and will have to be sent back to China once he turns four.
Bao Bao was also at the Smithsonian's National Zoo and was moved to her new home in China earlier in February this year.
When Bei Bei was only 15 months old he underwent an emergency surgery to remove a dense, masticated lemon-sized mass of bamboo.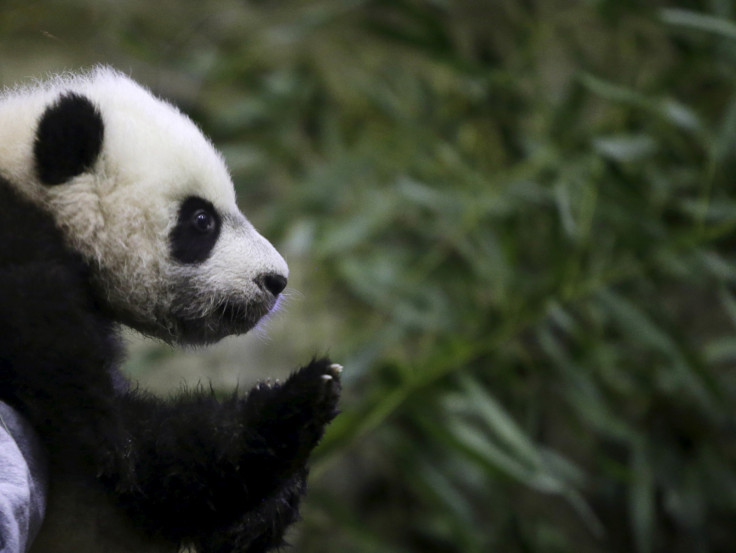 The furball made his media debut at the Smithsonian's National Zoo in December 2015 and first public appearance in January the following year.
Giant pandas are native to China and have a very low reproductive rate, especially in captivity. There are about 300 giant pandas in captivity and some 1,600 in the wild.